Funeral Held For 5-Day-Old Olivia Marie, Whose Skull Was Crushed By Forceps During Birth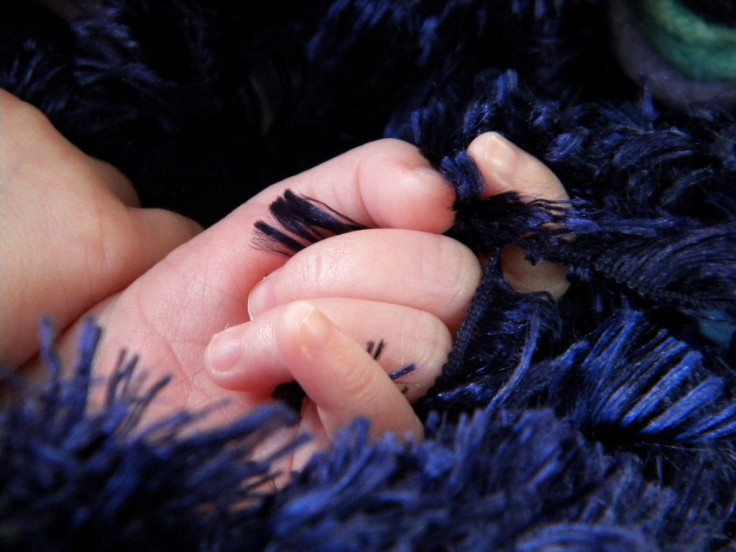 There are so many things that can go wrong during a baby's birth, but for Rachel Melancon and her fiancé Allen Coats of southeast Texas, perhaps one of the most gruesome outcomes occurred during the birth of their baby girl Olivia Marie on Dec. 28: Their obstetrician cracked Olivia's skull with forceps, causing her death five days later. The family of Olivia Marie held a funeral for her over the weekend, and now they plan to take action.
Both Coats and Melancon say that they plan to sue their obstetrician, Dr. George T. Backardjiev, after he refused to perform a C-section on Melancon, despite her requests on the basis that her body was small — she is 4-foot-11 — and Olivia was relatively large, at 7 lbs., 14.9 ounces. But even after 18 hours of labor, the doctor still wouldn't perform the operation. When he noticed that the baby was facing the wrong way, and wasn't able to turn her around manually, he used forceps, the NY Daily News reports.
"He took the small forceps to try to pull the baby out," The baby's grandmother, Angie Coats, told ABC News. "He kept going and even put his foot up on the bed trying to pull. He was turning and twisting and she would never come out. He put the forceps on way and the other. When he touched the top and side of the skill, we heard a pop, like clay cracking in pottery, and heard her skull crush."
Melancon was subsequently sent in for an emergency C-section, however, it was too late, because upon delivery, Olivia "was not breathing and she never cried," Coats told ABC. Still, Olivia was sent from The Medical Center at Southeast Texas, where she was birthed, to Houston's Children's Memorial Hermann Hospital. At the Children's Hospital, doctors told the family upon arrival that the baby was in need of life support after suffering "numerous skull fractures." Five days later, she died.
The family held a funeral for Olivia Marie on Saturday, and held a balloon release in her honor, calling it "the most beautiful thing ever," on a Facebook page devoted to her. "We are so so so so happy with the turnout of the funeral," they wrote in a post. "So many people came and donated and gave us support. We are standing here at peace because [of] all of you! Ya'll are truly carrying our pain in y'all's heart."
Both parents plan to sue Dr. Backardjiev for sole responsibility in the incident, saying that the hospital and its nurses were "great." "This is not their fault," Angie Coats told ABC. "It's one man's fault." The CEO of The Medical Center of Southeast Texas, Matt Roberts, also said in a statement that the hospital had launched an investigation into the case. "Our independent medical staff leadership shares in the hospital's commitment to take all necessary actions to understand why this happened," the statement said, according to ABC.
The family is also using the Facebook page to campaign against the use of forceps in all births — on the basis that there are other methods for birthing a baby, such as "vacs and C-sections in this millennium." Their petition has already gotten over 33,000 signatures.
Published by Medicaldaily.com