Funky Fun Fitness with Bernadette Robinson: Your Jump Rope Workout May Never Be The Same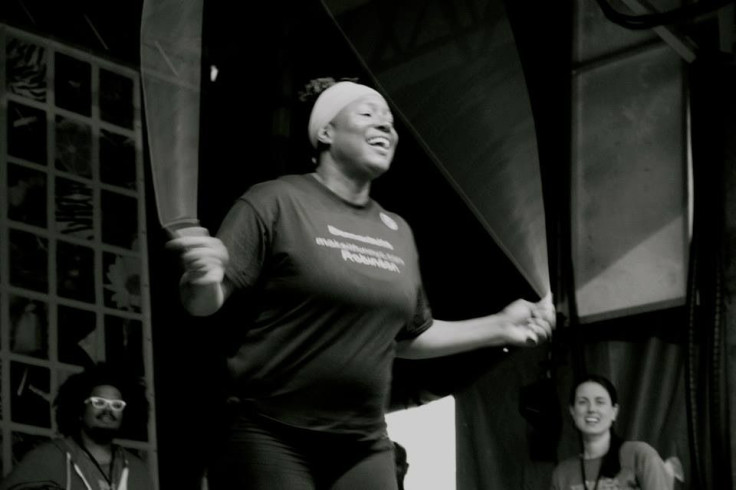 Is your workout boring? Bernadette Robinson can change that. The 36-year-old, mother-of-two will impress you with her moves.
Robinson gives a whole new meaning to jump rope training. The New York native has been jumping rope from childhood. If you see her at the gym today, you'll be tempted to stare, as she vigorously jumps rope to the point of intense sweating. She bobs her head to the music blasting through her headphones, while spinning, dancing, and boxing. These are only some of the many maneuvers that she does, which are not typically done with a jump rope.
Her love affair with jump rope developed after a trip to the library in middle school. "I borrowed a book from the library about jump roping, and I just tried to teach myself the basic tricks of jump roping," Robinson told Medical Daily. She never returned the book.
In high school she would come home from school and she would always have her jump rope in her bag. Her workout stuff was always her jump rope," Robinson's younger sister, Frances Meyers, said. She remembers her sister's passion for rope jumping spanning long into her childhood, when she would see Robinson jumping rope with strangers just for fun. Whenever she saw people jumping in the streets, she would boldly ask to jump in. "She would always get in somebody's rope" Meyers said. "They would just be all in it with her. She would offer to turn for them as well."
As a young adult, her passion turned into her lifestyle. At 19, Robinson came across an Aerobox/Aerojump class at Equinox gym, which was taught by former champion boxer Michael Olajide Jr. She also started training with former middleweight boxer Stephan Johnson. Johnson helped Robinson develop her talent over six months, teaching her 180-degree turns, and helping her to develop the boxing technique she now incorporates in her routine.
In an interview with Medical Daily, Robinson described her style of jumping rope as having the technical aspects of boxing, but with fun and dance. "Each class blends raise-the-roof music with creative calisthenics fitness games and jump roping. You'll be having so much fun that you won't even notice how hard you're working," she said. She incorporates fun into all of her jump rope sessions, while also implementing challenging exercises, which sometimes require heavy weights. And there's always a lot of action.
Although Robinson's first pregnancy in 2007 led to a five-year hiatus from training, her return was quick and strong. She was featured on Dr. Mehmet Oz's The Dr. Oz Show, where she danced salsa on a treadmill, and this past April she started teaching a new routine, called Punk Rope, at the Colosseum Gym in Newark. Punk Rope is similar to boot camp mixed with jumping rope, Robinson said. It helps improves stamina, strength, agility, coordination, balance, rhythm, and timing. She also holds jump rope parties, where she teaches kids and adults how to jump rope, and has performed at several events, including the Tribeca Film Festival in April.
Prince Jenkins, a N.J. Transit bus driver found out about Robinson's unique technique through Instagram, and immediately contacted her. Along with a small group, Jenkins recently met with Robinson in a N.J. park, where they all participated in jump rope techniques. "I think jumping rope is one of the hardest exercise there is... I started jumping when I started boxing and I didn't know how to do the crossing and the double jump," Jenkins told Medical Daily. "She broke it down for us."
So, why jump rope? According to the Jump Rope Institute, 10 minutes of jumping rope is equivalent to 30 minutes of running, 720 yards of swimming, or 30 minutes of playing racquet ball or handball. Furthermore, it increases alertness, along with the many other benefits of aerobic physical activity, which include a reduced risk of cardiovascular disease, diabetes, and obesity.
"I think it's fascinating you can do so many different things with a jump rope. It's something for all age groups," Althea Smith, Robinson's friend and makeup artist, told Medical Daily.
Published by Medicaldaily.com