'Funland' Exhibit At Museum Of Sex Stimulates All 5 Senses, Leaving Visitors With 'Breathless Rush': Sex Carnival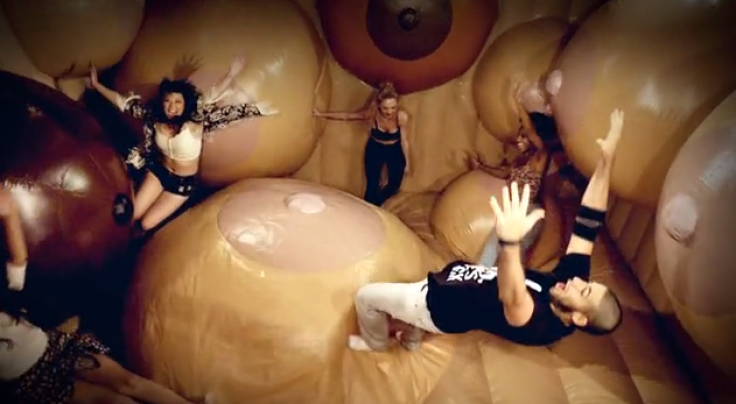 Most of us see carnivals as synonymous with youthful summers — riding the Ferris wheel, going on the bumper cars, and dipping our hands into some buttery popcorn as we sip some soda pop. The Museum of Sex in New York City caters to our childhood carnival nostalgia in a raunchy and naughty way with the opening of the "Funland: Pleasures & Perils of the Erotic Fairground," art installation by conceptual artist duo, Sam Bompas and Harry Parr. The exhibition, filled with sexual undertones, provides a carnivalesque experience that rouses competition, play, physical exertion, and a dose of endorphins, stimulating all of the five senses.
The London-based designers, who were bartending in New York, were approached by the Museum of Sex with the idea for a bounce castle for breasts, New York Magazine reported. "We loved the idea," Parr said, "but we knew we had to apply a theme and academic rigor." The duo turned to the director of the National Fairground Archive, Vanessa Toulmin, whose areas of expertise include fairgrounds and traveling entertainment, freak shows, and seaside entertainment, to create this erotic subtext of carnival culture.
The erotica exhibit starts off with a scented mirror maze called the "Tunnel of Love," which ends, unsurprisingly, when the visitors have reached "the G-spot." The visitor then goes off into a titillating experience as they "Jump For Joy" at the bouncy boob castle — which has the capacity of six people — similar to Sir Mix-A-Lot's "Baby Got Back" video, except with enormous breasts. Following that is a "roll-ball" carnival game with molded penises instead of race horses, and a movie reel with amateur porn, which ends when visitors reach the climax: "Grope Mountain." To stimulate all five senses, the exhibit will have a custom carnival soundscape by composer Dom James.
The exhibit is extremely graphic and obvious, deliberately trying to distinguish itself from how sex is typically seen in museums. Funland makes the experience fun and playful, provoking thoughts about sex, pleasure, and eroticism in a more natural way. "Physical, visual and olfactory experiences are utilized to give the audience a breathless rush of endorphins (similar to those released at the point of orgasm), challenge their strength and agility, and allow them to compete with and impress friends and lovers, as well as other patrons," according to the Museum of Sex's website.
Edible treats, most likely aphrodisiacs, will be served on the climactic journey of the Erotic Fairground. The exaggerated yet aesthetically pleasing exhibit opens Thursday, June 26 and runs through spring 2015. Remember to bounce responsibly.
Published by Medicaldaily.com