The Future Of Sex: Why America's First SexTech Hackathon Probably Isn't What You Think It Is
The plan to hold America's first sextech hackathon wasn't hatched by Silicon Valley brogrammers between swigs of beer and writing code. In an origin story far more fitting, the vision crystallized after a sexual education workshop held at a polyamorous, sex positive living community in Brooklyn.
"You were the ideas man and pulled it all together," Bryony Cole, The Future Of Sex podcast host, said to organizer Andriy Yaroshenko the morning of the innagural event, which was held at the ThoughtWorks office in Manhattan.
The workshop where Cole and Yaroshenko met was at the Hacienda Villa housing community, which hosts similar events throughout the year, though they previously connected on Twitter. The pair formed a friendship over a mutual desire to change the way we talk and think about sex. They also share a background working in technology with Cole serving in marketing functions for companies like Microsoft, and Yaroshenko building digital products for companies such as Kimberly-Clark. Now the former runs her podcast, exploring what intimacy looks like 15, 20 or 100 years from now, and the latter plans educational events, in addition to working on a dating app matching people based on their fantasies. The tool is currently availble only in Ukraine, his home country.
It was Yaroshenko who pushed to make the first stateside hackathon female-focused. Naturally, he enlisted Cole and other leaders in New York City's Women of Sex Tech community (made up of entrepreneurs striving to end the stigma around sexuality) as speakers and mentors to help budding product developers hone their ideas.
"We need more men like this," said Mal Harrison, referring to Yaroshenko, as the trio took a break at the event to chat with media and recall their first meeting at the squirting seminar. Harrision serves as director of the Center for Erotic Intelligence, is a clinical sexologist and the former advice columnist for the Museum of Sex. Now, she's a sextech hacker and believes progression hinges on technology—even for something as old as sex.
Before your mind wanders to robot orgies streamed via virtual reality, there was one strictly-enforced rule: no hacks related to pornography or entertainment were accepted. The aim was not to focus on the scintillating fields everyone is excited to talk about, but rather to discuss topics we need to explore: communication, education, LGBTQ issues, assault, health, menstruation, sexually transmitted infections, infertility, and yes, pleasure.
"The hackathon is just to get people to start thinking," Yaroshenko said, insisting our society focuses too heavily on porn."It's so strange," he remarked.
Beginning at 9:30 a.m. on June 10, roughly 50 men and women gathered to discuss how new developments can make sex better. The day launched with introductions to female leaders in the sextech industry including Cole and Harrison. Kris Jandler, co-founder of Emojibator—a company making sex toys modeled after phallic emojis—and Irene Ryabaya, co-founder of Monarq—an incubator supporting female-led startups—also spoke and mentored attendees.
Unlike traditional hackathons that last 24 to 48 hours, this one was finished in under 10. The idea was to present a concept that could be further developed, not a fully-functioning product.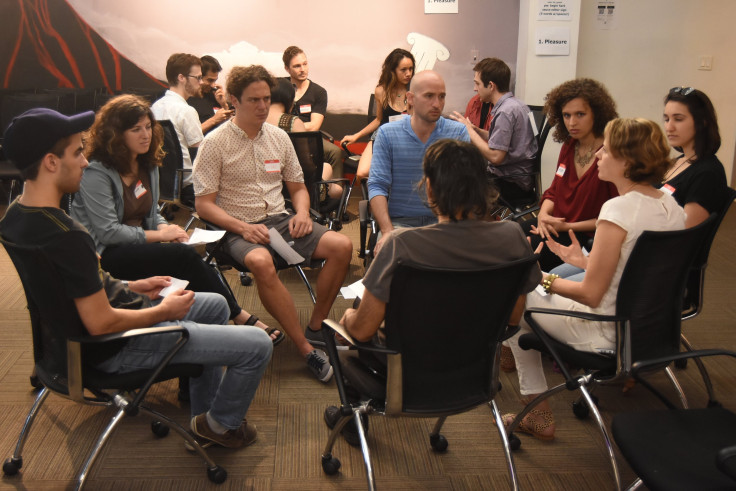 "And that's why you'll see the hackathon formula isn't pitch, pitch, pitch," explained Cole. "We're doing activities so people can get to know each other and feel comfortable. It's much more collaborative."
Anyone could attend, but the focus was on inspiring women-driven technologies. Cole cited a recent report claiming 2017 as the year of the vaginanomix for its unprecedented boom in women's health and sexuality products.
There's no denying that female-first companies have gained momentum. Research firm CB Insights estimates that women's health startups have raised more than $1 billion over the past several years. Period-proof panty maker THINX, for example, reportedly made tens of millions of dollars last year, according to Fast Company.
Teams of engineers, psychologists, designers, or anyone with dreams of creating the next big disruptor formed based on the category they hoped to tackle. No one opted to work on infertility issues. STIs also garnered no interest, presumably because talking about herpes isn't sexy.
Attendees gathered around tables spread throughout the large office space. Brainstorming sessions began loud and loose, with people talking excitedly and jotting ideas down on sticky notes.
"Men don't have mature conversations about sex," a guy can be heard saying amongst the chatter.
By the last hour, the mood intensified as teams rushed to submit their pitches in time. A few groups shifted members, and one girl left to do research as no one was interested in working with her.
"It wasn't sexy," Cole said of the girl's invention, which sounds a little bit like genital ice packs, though Cole believes it will be a best seller after debuting.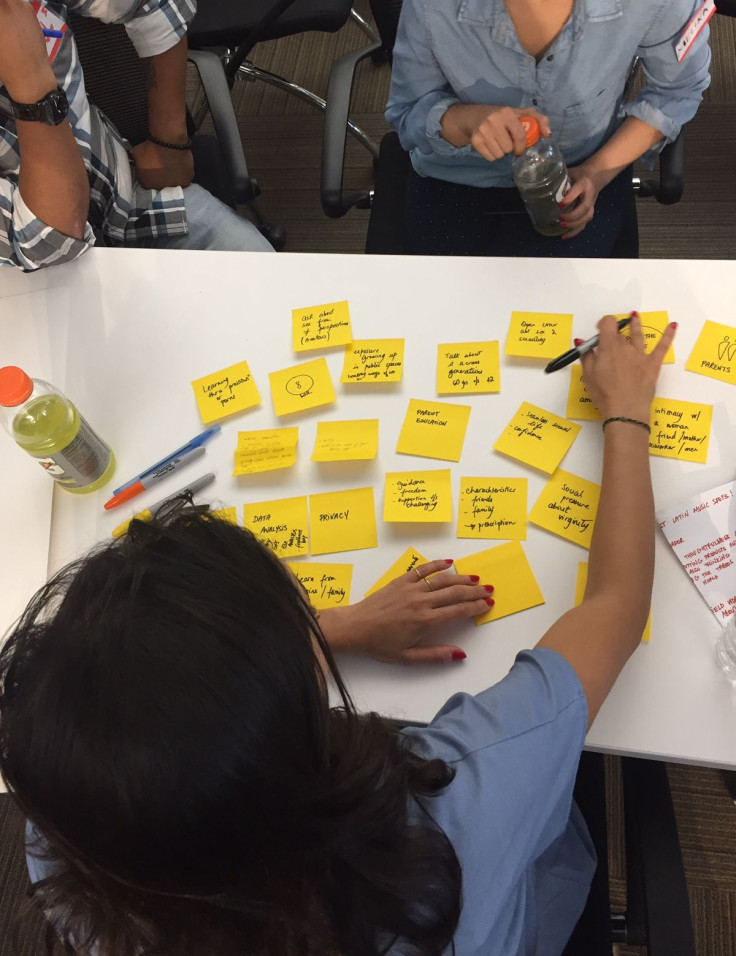 The hours dwindled until it was finally time for seven teams to present their pitches to the judges, made up of sextech entrepreneurs. The initial nine categories shrank to three: pleasure, communication and education. Surprisingly, the winners solved a very unsexy conflict—talking about the deed with mom and dad.
"How do we foster a safe environment at home for children to have a conversation about sexual education with their parents?" asked co-creator Anthony Lopez.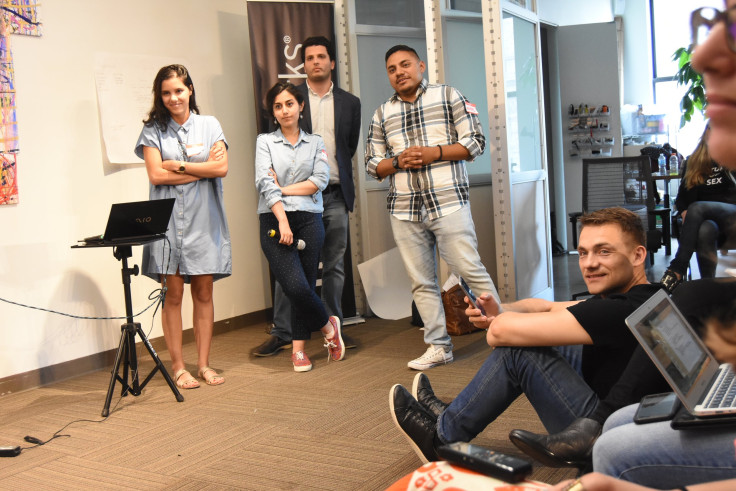 His team's answer is Spinucation, a game similar to spin the bottle. Using artificial intelligence to pull in news stories and other resources, a question pops up after parents or their children give it a spin. The thinking is that Spinucation will create open and non-awkward dialogue. Lopez and two of his collaborators recently finished their masters degrees in Transdisciplinary Design at Parsons School of Design. They haven't decided on whether the awarded coworking space will be used to bring the product to market.
One team unveiled a Birchbox for fantasies which packaged sex toys, educational materials and instructions for role playing games to help couples reignite lost spark.
Another product attempted to eliminate rape culture, but didn't move past the ideation phase as the problem can't be solved in a few hours. According to the innovators, their biggest challenge was incentivizing men to take a quiz revealing predatory behaviors—after all, no one wants to believe they're a potential rapist.
As Yaroshenko and the event speakers hoped, conversations went beyond thinking about sex as merely a physical act. This may be a revelation to some, but Cole and Harrison frequently have these discussions with their Women in Sex Tech peers.
"We have two basic negotiations around sex and that's either bragging about it or hiding it," Harrison proclaimed about our culture's stance.
As the hackathon died down, Cole spoke about plans for the next event, theorizing it might be better as a girls-only day. SexTech New York Hackathon 2.0 is not yet in the works, but the focus will remain on reframing how we talk about the topic and using technology to humanize and advance our connections.
"So fast forward 20 years [and] hopefully we're all just so over the shame and so much more open to sexuality" said Cole.
Published by Medicaldaily.com