Garden Fresh Foods Recalls Over 70 Chicken, Ham, And Salad Products Over Possible Listeria Contamination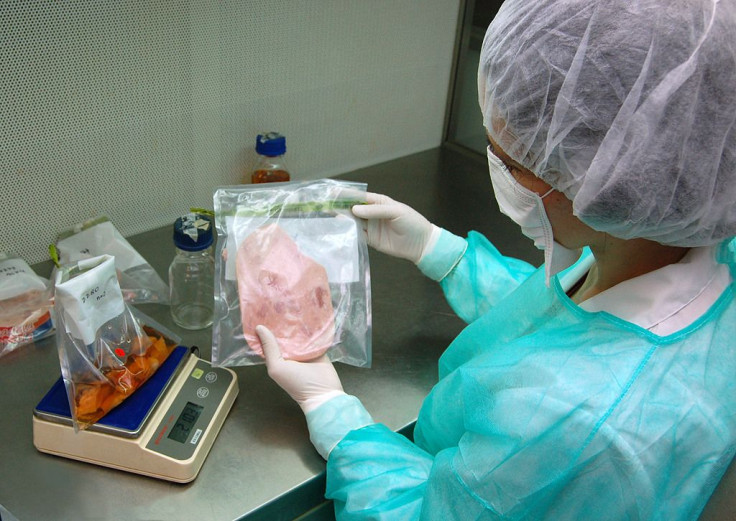 Before you get ready to dig your fork into a crunchy chicken salad plate with some dip on the side, it's time to check if your kitchen products are part of Garden Fresh Foods' recall of 19,000+ lbs. of meat.
Last Wednesday, the Milwaukee firm, Garden Fresh Foods, recalled its ready-to-eat chicken and ham products due to a possible Listeria contamination in a U.S. Department of Agriculture (USDA) news release. There are currently more than 70 different dips, pasta salads, potato salads, chicken salads, ham, and various cole slaws on the recall list.
The Wisconsin company distributes foods nationwide under the following brands: Archer Farms, D'Amico and Sons, Finest Traditions, Garden Fresh, Grandpa's, Maggie's, Market Pantry, Portillio's, Roundy's, Spartan, and Weis, Counsel & Heal reports.
"These products are being recalled in association with a recall by the same company of products regulated by FDA," stated the news release. The possibility of a Listeria contamination was discovered through microbiological testing at the facility by the FDA. Currently, the FDA, the Food Safety and Inspection Service (FSIS), and Garden Fresh Foods have not received any reports of illnesses due to consumption of the recalled products.
Listeria is caused by the consumption of food that is contaminated with the bacterium Listeria monocytogenes, according to the Centers for Disease Control and Prevention. Older adults, pregnant women, newborns, and adults with a weakened immune systems are especially susceptible to listeriosis, which is food poisoning caused by Listeria. Pregnant women are at risk for a spontaneous abortion or stillbirth if contaminated with the bacteria.
Even a small amount of Listeria found in the bloodstream can cause serious symptoms such as nausea, diarrhea, muscle aches, and fever, according to the Mayo Clinic. If Listeria spreads to a person's nervous system, he or she may experience confusion, convulsions, loss of balance, and even a stiff neck.

For Garden Fresh Foods' full list of recalled products, visit the FDA's website.
If consumers have any questions regarding the recall, they are advised to contact the company from 8 a.m. to 4:30 p.m., Monday through Friday, at (800) 645-3367.
Published by Medicaldaily.com