George Bush Sr. Shaves Head To Support Secret Service Agent's Son Battling Leukemia, 60 Years After Own Daughter's Death [PHOTOS]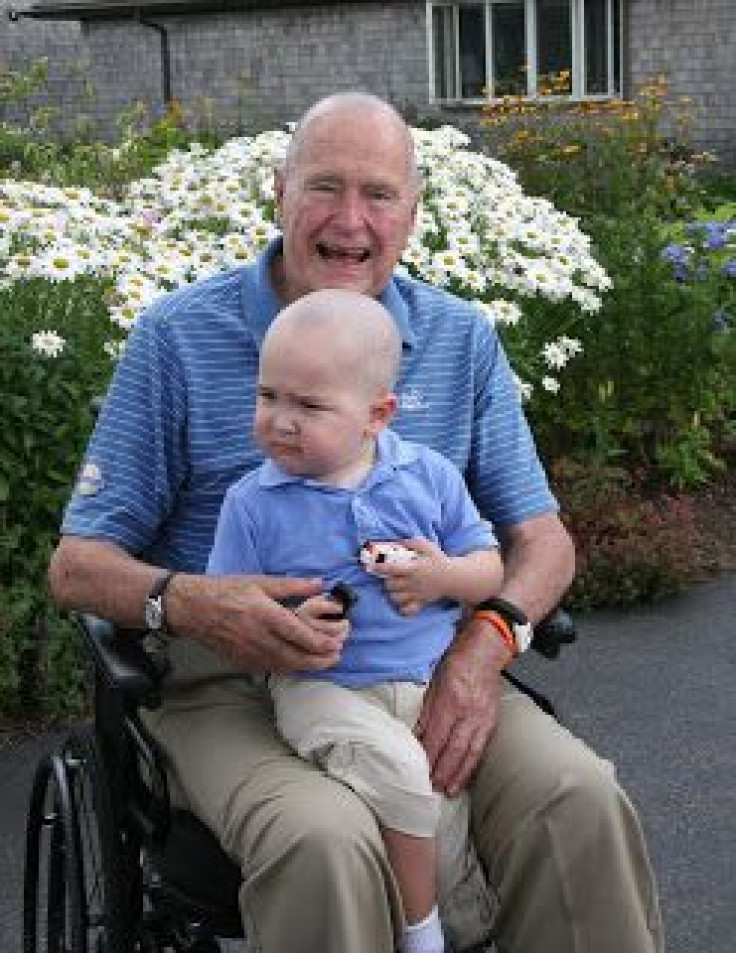 Former President George H.W. Bush volunteered to shave his head on Wednesday in support of a two-year-old cancer patient named Patrick. Bush, as well as his entire U.S. Secret Service Protective Detail, shaved their heads in solidarity with the toddler, who is the son of one of its members.
Patrick's Pals is an organization dedicated to raising money to help fund Patrick's leukemia treatments. The organization's supporters say that Patrick's prognosis is very positive, but he will still have to undergo years of costly treatments to maintain his health. In support, Patrick's Pals is holding a Motorcycle Benefit Run in August to help raise funds for the "little guy" and his parents.
The cause is one close to Bush and his wife Barbara Bush's hearts, as they lost a daughter to leukemia 60 years ago. Robin Bush, their second child, lost her battle with the disease in 1953 at just four years old. In a 1988 interview with writer Amy Cunningham, Mrs. Bush discussed her daughter's death.
"Both George and I felt this enormous physical pain for months afterward," she said. "I think you get that when anyone you love dies. Just this enormous physical pain. It felt like our hearts were breaking."
At the time of the interview, Mrs. Bush was the honorary chairperson for the Leukemia Society of America and the honorary chairperson of Donor Awareness Week. She has worked tirelessly in support of various efforts like these to honor her daughter's short life.
"We were lucky to have her for as long as we did. Robin's death strengthened our belief in God," said Mrs. Bush. "And our belief in God strengthened us. So I've always felt that Robin was in the arms of God. She'll never have any of the worries the rest of us will have."
As for little Patrick? He and his family are grateful that the former president saw fit to support him in such a big way. "We cannot thank both President AND Mrs. Bush enough for their generosity and concern!" the site said.
Published by Medicaldaily.com