German 'Popeye' Enters Professional Arm Wrestling After Genetic Defect Gives Him A Massive Right Arm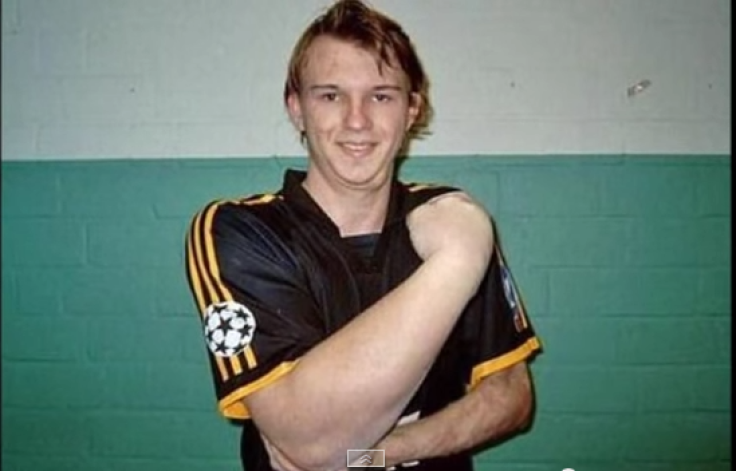 Professional arm wrestler Matthias "Hellboy" Schlitte was born with a genetic defect that caused his right arm to develop to almost twice the size of his left arm. Described as the German "Popeye," Schlitte learned from a young age how to use his 18-inch right bicep to his advantage.
"I first discovered I could use my gift when I was three years of age," Schlitte told Yahoo7 Sport. "We had a family oven at home in Germany and I picked up a rather large bucket of coal for the oven and carried it around for my mother, which was probably very uncommon for a three-year-old."
After entering an arm wrestling competition at a local bar in the small village of Haldensleben when he was 16 years old, Schlitte started to turn heads with the impressive amount of strength he displayed with one arm. He began taking on other arm wrestlers who were much bigger than him but couldn't compete with the power of his abnormally large right arm.
Today, Schlitte has eight national arm wrestling championships in Germany and 14 international championships under his belt. He also became the youngest to ever win a Sylvester Stallone-inspired "Over The Top" Tournament and even defeated an arm wrestling robot after breaking the machine. It's safe to say there is nothing Schlitte would like to change regarding his appearance.
"I have spent 10 years traveling around the world doing what I love," he added. "Everyone has a challenge in life. I'm not a religious guy or anything but this was a gift from a higher power and this was my calling in life."
Published by Medicaldaily.com