Getting Started Early: Babies As Young As 6 Months Use Mobile Devices For Up To An Hour Each Day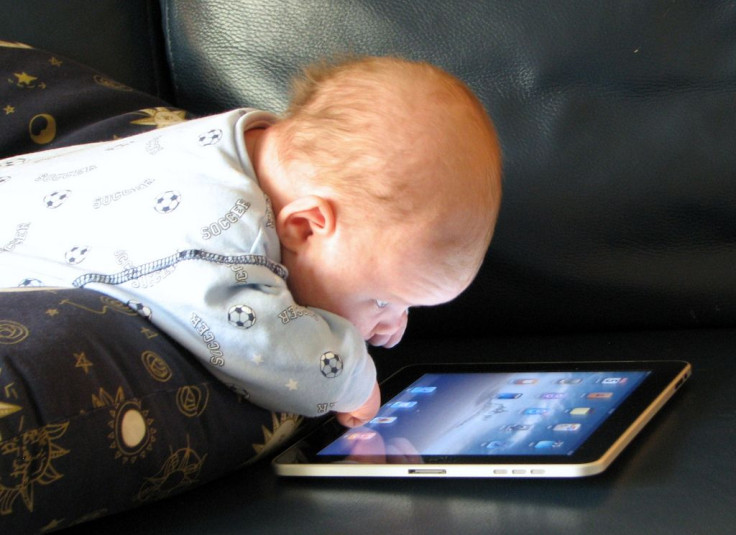 In the age of mobile devices, we are now seeing a new milestone within infancy and toddlerhood known as "Baby's First Tablet Tap". As a greater number of parents acquire new forms of mobile media, the likelihood that they will allow their children to use their devices as increases, even if the child has not taken her first steps. Some as young as 6 months are participating in mobile media usage for as long as an hour, which has many scientists particularly alarmed. Even though the effects of mobile device usage on babies are not known, evidence exists that cell phones may harm developing fetuses, making it likely that this trend toward the technological may be a threat to growing children.
In a new study conducted by the Pediatric Academic Societies (PAS), more than one-third of babies are flipping through apps on smartphones and tablets before they have said their first words. By one year of age, one in seven toddlers are using mobile devices for up to an hour a day. The American Academy of Pediatrics finds this particularly worrisome, as they discourage children under 2 from using any sort of media including televisions, computers, smartphones and tablets.
To discover the numbers of children using mobile media at early ages, researchers created a 20-item survey derived from the "Zero to Eight" Common Sense Media national survey to find out when mobile media exposure begins, and what children use these devices for. The pool was sampled from low-income parents living in minority communities who had children ages 6 months to 4 years old; out of the total 370 parents asked, 74 percent were African American, and 14 percent were Hispanic. Within this group, only 13 percent had less than a high school education. Recruited from a hospital-based pediatric clinic, participants were surveyed for types of mobile media they had in their household, when their child was first exposed to this media, how often the child would use it, what they would use it for, and whether or not their pediatrician discussed the risks of childhood media use with them.
Researchers found that from this pool of 370 people, a vast majority had some form of media device; 97 percent had televisions, 83 percent had tablets, 77 percent had smartphones and 59 percent had internet access. Out of their children, those younger than 1 year of age were exposed to media devices in alarmingly high numbers as 52 percent watched television, 36 percent had touched or scrolled down a tablet/cell phone screen, 24 percent had made phone calls and 12 percent played video games. By 2 years of age, a majority of these children were using mobile devices.
"We didn't expect children were using the devices from the age of 6 months", said Dr. Hilda Kabali, of the Pediatrics Department at Einstein Healthcare Network in a recent press release. "Some children were on the screen for as long as 30 minutes."
Most reported uses of mobile phones were found to be when parents needed their child distracted; 73 percent of parents gave children mobile devices while they did household chores, 65 percent to calm a child down, 60 percent while running errands and 29 percent to put a child to sleep. It was also found that time on mobile media increased as children got older, as 26 percent of 2-year-olds engaged in use, and 38 percent of 4-year-olds used devices for an hour a day, minimum. Out of the total number of parents surveyed, only 30 percent said their pediatrician discussed the potential dangers of early media use with them.
Kibala and her colleagues plan to present this information Saturday, April 25th at the Pediatric Academic Societies annual meeting in San Diego, CA.
While scientists do not know the particulars yet as this is a relatively novel phenomenon, we do know the potential damage mobile devices pose for adults. We can thus infer that if children are using mobile devices from a younger age, this can become a major detriment to early development. It is ultimately up to pediatricians to get the word out that frequent device use from infancy poses many risks, and that your baby's first words being "iPad mini" may be a serious problem.
Source: Kabali H, Pediatric Academic Societies, 2015.
Published by Medicaldaily.com