Giraffe Kisses Mentally Ill Cancer Patient, Mario, To Fulfill Zookeeper's Dying Wish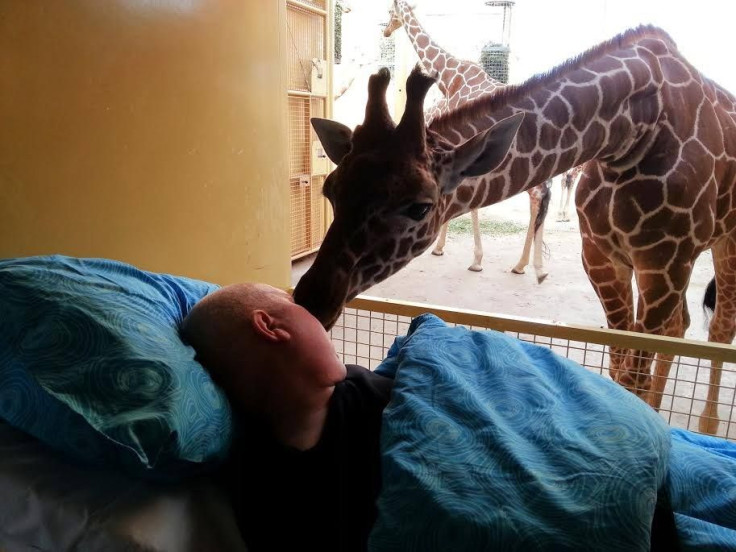 After spending 25 years working as a zookeeper at Rotterdam's Diergaarde Blijdorp Zoo, Mario, a mentally ill, cancer-stricken patient, got his dying wish: a chance to say goodbye to the animals he loved. The 54-year-old man was wheeled in his hospital bed into the giraffe enclosure, where he shared an intimate embrace and a farewell kiss with a giraffe, and said goodbye to his colleagues, too. The heartwarming moment was captured by the Ambulance Wish Foundation charity.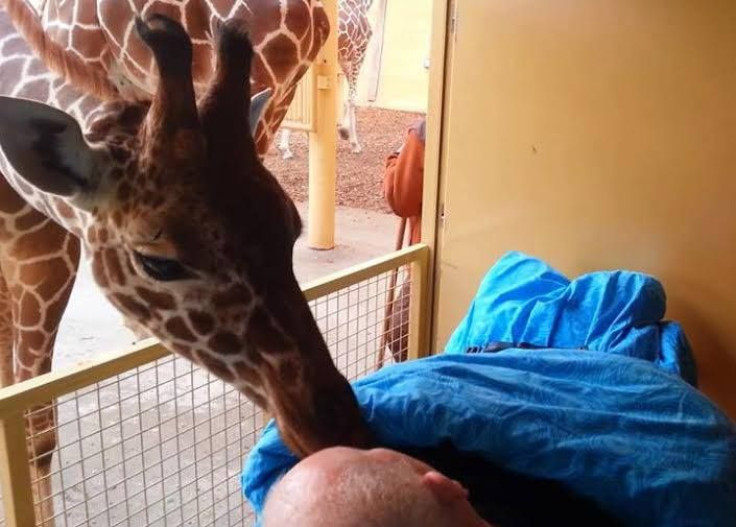 "These animals recognized him, and felt that (things aren't) going well with him," said Kees Veldboer, founder and director of the Ambulance Wish Foundation, to Algemeen Dagblad, a Dutch newspaper. "(It was) a very special moment. You saw him beaming." Mario, who is battling the final stages of brain cancer, has been left paralyzed, and can barely speak. However, those surrounding him saw "his face spoke volumes" as he made his final visit to the zoo. Veldboer even noted spectators got "goosebumps" when the giraffe licked the zookeeper's face.
This isn't the first time the nonprofit organization helped a patient bid farewell to an animal. Back in January, the chairty took a terminally ill 86-year-old man back to his farm in Holland to say goodbye to his ponies, according to Omroep Brabant, a Dutch newspaper. The foundation aims to add life to a patient's final days.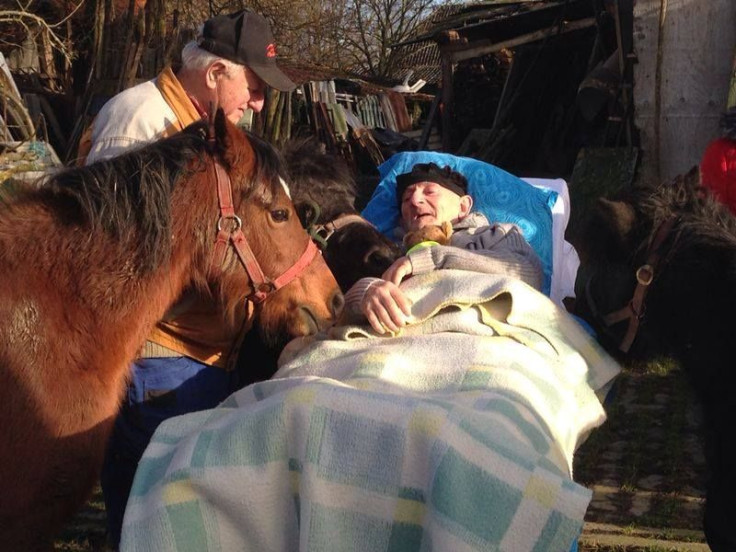 Veldboer, who founded the nonprofit organization in 2007, fulfills the dying wishes of physically handicapped and terminally ill patients. The Ambulance Wish Foundation operates in the Netherlands in a similar way to the Make-A-Wish Foundation in the U.S., which is dedicated to helping people make their wishes come true with the help of volunteers. He drives the company's ambulances to take the patients to wherever they wish to go. These ambulances were purposely designed with long windows to allow the patients to look at the scenery as they are being transported to their location of choice.
Published by Medicaldaily.com