Girl Born With Heart Outside Her Body Survives Against All Odds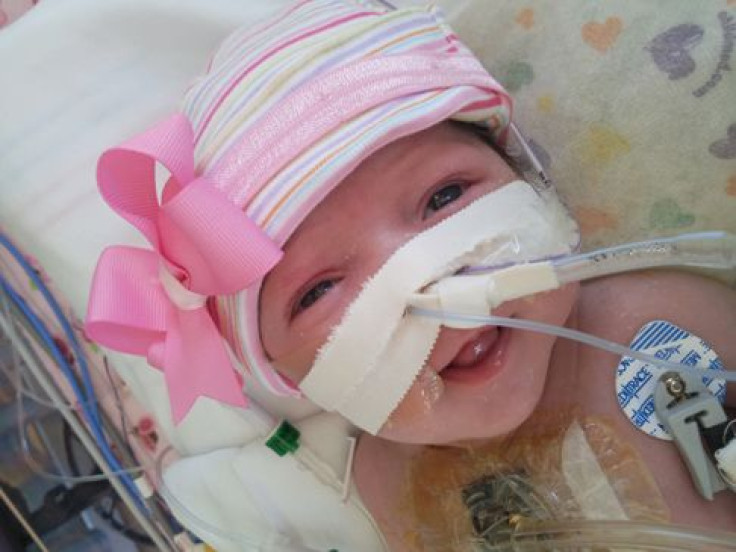 Audrina Cardenes was born with a heart outside her body - a condition so rare that it is found in just 8 in million babies and almost 90 percent of these don't survive for more than a few days.
But Audrina is now five weeks old and the tiny girl has defied all odds to stay alive, says a statement from Texas Children's Hospital, where she received a life-saving surgery five weeks ago to fix her heart.
She was diagnosed with a condition called Ectopia cordis - a rare congenital defect in which heart is placed outside the chest.
"This risky operation on such an uncommon condition required specialists from a variety of care teams including cardiovascular surgery, plastic surgery and general pediatric surgery," said Dr. Charles D. Fraser, surgeon-in-chief at Texas Children's Hospital and professor of surgery and pediatrics at Baylor College of Medicine (BCM), according to Marketwatch.
"I have only seen this condition a few times in my career and these are always very tricky cases; in fact, many of these babies do not survive," added Fraser.
Audrina's condition was detected during a regular ultrasound 16 weeks into Ashley Cardenas' pregnancy. Dr. Jorge Blanco, a Maternal Fetal Medicine (MFM) specialist in Midland, Texas, found that sonogram image indicated that part of the baby's heart was growing outside the body.
Ashley Cardenas' was told that she had three choices; one was to terminate the baby, second was to opt for comfort care - that would provide support for the dying baby or third was to complete the pregnancy, then opt for a risky procedure.
"After my doctors explained just how sick my baby was and what options I had, it didn't matter how scared I was, I knew I had to do anything possible to save my daughter's life," said Cardenas, Marketwatch reported.
Audrina is now recovering well at the Texas Children's Hospital. Doctors say that she will require specialized care by a pediatric cardiologist for the rest of her life.
"Despite Audrina's misplaced heart, she was born with no other syndromes or genetic conditions that would cause additional stress or complications on her heart. Although her future prognosis is uncertain, Audrina is currently thriving and making progress each day," said Dr. Carolyn Altman, pediatric cardiologist at Texas Children's Hospital.
Published by Medicaldaily.com