'Girl Born Without A Face' Redefines Beauty: Juliana Wetmore, Treacher Collins Sufferer, Can Finally Talk After 45 Surgeries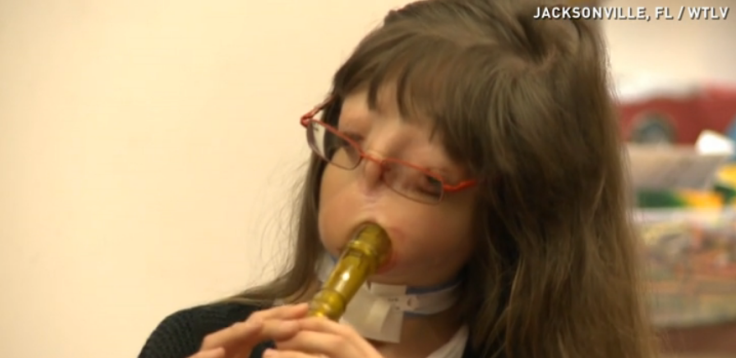 A little girl from Jacksonville, Fla., can teach us a thing or two about beauty. Eleven-year-old Juliana Wetmore goes to school, talks, and plays with her classmates, beating all odds after being born with Treacher Collins syndrome, or without a face. It was after a complicated pregnancy, Juliana's parents, Tom and Tami Wetmore, discovered they gave birth to a girl who was missing 40 percent of the bones in her face. Despite critics on social media that suggested euthanizing Juliana, the Wetmores are rejoicing today, as Juliana can now talk and communicate in sign language after 45 surgeries in 11 years.
"Where is she? Where's her face?" Tami remembers asking, First Coast News (FCN) reported. Since she had a complicated pregnancy, she had not seen Juliana until her husband took a photograph and braced his wife for what she was about to see. Treacher Collins patients suffer from facial development that is believed to be caused by a change in the gene on chromosome 5. The rare genetic disorder is characterized by abnormalities in the development of the head and face, and the underdevelopment of the cheek bones and similar structures, including the jawbone, according to the Genetics Home Reference.
The Wetmores' decision to keep Juliana brought different reactions, especially on social media: "Damn thing should have been euthanized," read one of the comments, FCN reported. The Wetmores, doctors, and others remained horrified by this reaction, but used it as motivation to continue to give Juliana a normal and healthy life.
Her parents support her entirely and believe Juliana is "showing the world" beauty is only skin deep. Parents from all walks of life have even used the 11-year-old's story to teach their own children that true beauty is not defined by what's on the outside. "This story is much bigger than us or Juliana," Thom said, the NY Daily News reported. "God never gives you more than you can handle."
Juliana is not alone in her day-to-day struggles. Alongside the help she gets from her parents and her older sister Kendra, the adolescent receives the support from her Ukrainian adopted sister Danica, who also suffers from the same condition. In 2010, the Wetmores did a Google search on "Treacher Collins adoption," where they found a photo of Danica in an orphanage in Ukraine, USA Today reported. Her medical condition is not as severe as Juliana's.
The girls have been inseparable since they've met. They speak sign language to each other and swing together on the playground at school. The Wetmores believe Juliana and Danica will always be able to understand the struggles they face when other people cannot relate.
Juliana still has some hurdles to overcome as she still relies on a tracheotomy tube to eat, primarily receiving liquid nutrition. Currently, she can swallow and digest foods such as Italian Ice. Her parents hope she will be able to eat on her own one day.
The 11-year-old still has a pending surgery this summer to define her cheek bones. Although her surgeries haven't given her a "typical" looking face, Juliana has expressed to her parents she is satisfied now with how she looks. The Wetmores say they don't want to pressure her into any more surgeries.
Published by Medicaldaily.com