Gisele Bündchen Visits Slum in Kenya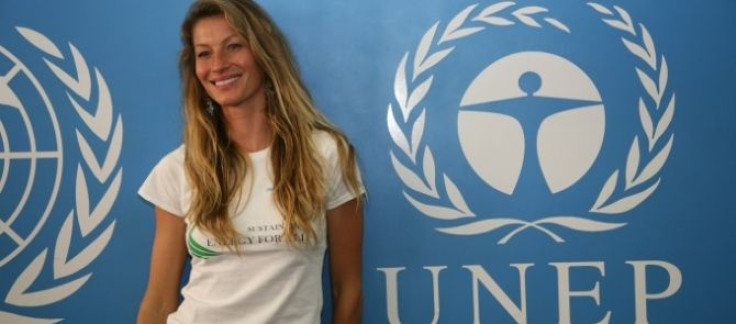 Model and advocate Gisele Bündchen was in Nairobi, Kenya on Friday drawing attention to a lack of electricity for much of the world's population and advocated for a United Nations effort to get more investment to resolve the problem.
"Energy affects everything. Children can study at night when they have access to electricity. If we can bring electricity to everyone, we can help people to survive," she told a press conference.
The UN body helping with the effort is the United Nations Environment Program, which has its headquarters in the city.
"It's unjust if people do not have access to electricity. Energy for all is achievable. Just 2 percent of global investment is needed," she said.
Her advocacy on Friday comes in the runup to the global launch of the International Year of Sustainable Energy for All campaign, according to the agency.
The fashion model and is an ambassador for the "Small is Beautiful" Energy Solutions on her first official visit to Africa on Thursday.
Visit to Slums
The Victoria Secret model went to the grassroots level in Kenya to experience the effects of energy poverty and to see how Kenyans are transforming their lives though sustainable energy, UNEP said in a statement.
Bündchen went to East Africa's largest slum in Kibera to look at the biogas centers that turn human waste into power. Then she went to Kisumu where collected firewood and learned about fuel-efficient cook stoves, after which she went to the Mount Kenya area where micro-hydro power brings electricity to 2,000 households.
Harm from Indoor Cooking
The UN organization said that half the world's people still cook on open indoor fires, and 2.5 million people die annually as a result of breathing in emissions from these cook stoves that produce black carbon, or soot. However, many more are affected with health conditions like chronic bronchitis as a result of the climate change pollutant, the organization noted.
Possible Solutions
"We need to change our way of thinking and not think globally but locally. In Africa two thirds of the population still do not have access to energy. There are solutions at the local and community levels. I have a dream that with photovoltaic energy we can build grids up from the bottom and that one day we will see rural areas generating electricity and selling energy to the cities," said UN Under Secretary General and UNEP Executive Director Achim Steiner.
"Kenya is increasingly developing its geothermal, wind, solar and hydro power resources at the local level," Achim added.
Bündchen became a UNEP Goodwill Ambassador in 2009, and her visit was designed to raise the profile of the IYSEA and to emphasize the importance of worldwide energy access.
Published by Medicaldaily.com