Glamour Model 'Addicted to Boob Jobs' Now A 32M, Still Seeking Enlargement: 'I Want To Be Huge'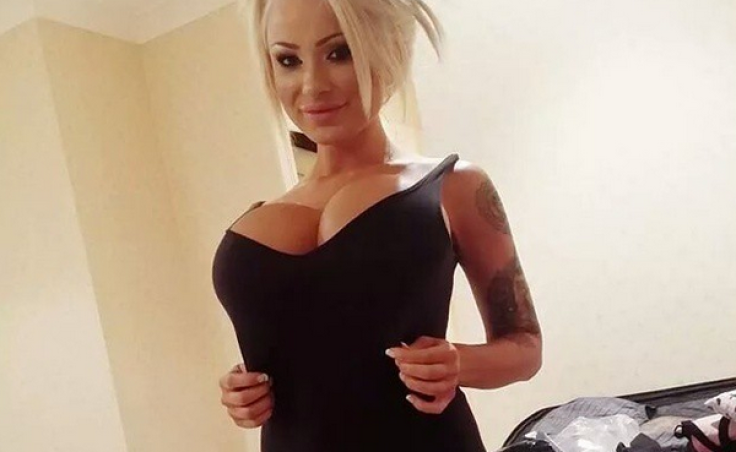 While money may not buy happiness, it can buy boob jobs, specifically the largest (fake) breasts in Australia. 23-year-old glamour model Sarah Marie Summer of Sydney, Australia, has already had three boob jobs since the age of 17 taking her from a 32A to an enormous 32M. Now, the "boob job addict" wants to go even bigger after her enormous breasts have landed her multiple modeling jobs, and a huge social media following on Facebook, Twitter, and Instagram.
"I don't think people believe that this is actually how I want to look," Summer told Australian Woman's Day magazine. "I want to look silly and I want to be huge." "They make people smile and that makes me happy, so that can't be a bad thing."
During Summer's first breast augmentation, she remained unsatisfied going from a 32A to a 32C. She began to save some money for her next procedure. In July of last year, the glamour model went up to a 32DD, but still express discontent because of their "small" size. "I had mixed feelings after because they were still not what I had imagined. They were just not big enough so I decided to go again," said Summer, the DailyMail reported.
In the U.S., breast implants are still the most performed cosmetic surgery in women, with over 290,000 procedures done in 2013, according to the American Society of Plastic Surgeons. These statistics, along with weight gain, help explain why the average bra size in America has jumped from a 34B 20 years ago to a 34DD in 2013. The lingerie industry is now focusing on larger cup sizes more in terms of offering products that meet their clients' needs.
Breast augmentations do present some risks. Summer ran into several health complications after receiving her third procedure. Although she had trouble finding a plastic surgeon to perform the surgery, Summer went under the knife in January getting one of the largest augmentations available at size 32M. Her health was jeopardized since her skin stretched so much she had blisters, and they got infected.
"I was on antibiotics and I was allergic to them. I was really sick. I wasn't healing and they wanted to take them out but thankfully I turned a corner," Summer said. The boob job addict also had to learn how to do basic skills again like driving, and dancing. "Driving is hard. I had to learn how to dance again and I often knock things over with them, or knock my drinks and spill it all over them," she said.
Her breasts are calculated to weigh almost 12 pounds, according to The Mirror, which presents several back problems for her 104-pound, 5-foot, 4-inch frame. Typically, breasts make up on average one percent of a woman's bodyweight, but Summer's breasts make up about more than 20 percent of her total body weight. A fourth procedure could severely jeopardize the glamour model's health.
Despite Summer's enormous cup size, a 32M is relatively tiny compared to Annie Hawkins-Turner whopping 48V cup. Currently, Hawkins-Turner holds the Guinness World Records for the woman with the largest natural breasts. Her cup size cannot be found in lingerie stores, and she must wear a US size 52I bra — which translates to a 48V bra by American bra estimation — which is by far the largest is made.
Doctors warn women, like Summer, there are several risks of going under the knife again, especially after having numerous breast augmentations. Severe back pain, neck pain, and other physical symptoms are among common problems experienced by big-chested women. Patients should consult their doctors to decide what cup size is best for their bodies.
Published by Medicaldaily.com