Glen Campbell To Quit Touring Due To Alzheimer's Disease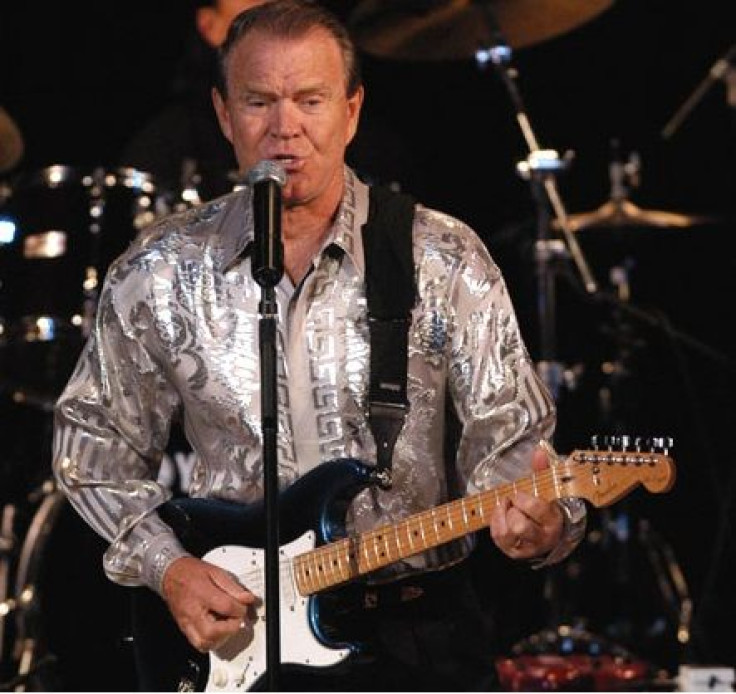 Although his Alzheimer's disease has progressed too far for him to remain on tour, Glen Campbell announced he will release a new album, See You There, on August 6th. Produced by Surfdog Records, the new album features new versions of his most popular songs, including "Wichita Lineman," "By the Time I Get to Phoenix," "Rhinestone Cowboy" and "Gentle on My Mind."
Surfdog owner Dave Kaplan said the reworked versions of Campbell's classics are meant to evoke the feeling of sitting next to him while he sings them. Campbell recorded the songs during his sessions for Ghost on the Canvas, his 61st album, which he had intended to be his last. Released in August 2011, that album dropped shortly after his surprise announcement that he had been diagnosed with Alzheimer's.
Campbell celebrated his 77th birthday in Washington D.C. where he advocated for more research funds at a dinner for the Alzheimer's Association and a visit to Capitol Hill. Alzheimer's, the most common form of dementia, causes problems with memory, thinking and behavior. Alzheimer's is predicted to affect one in 85 people globally by 2050. The disease worsens as it progresses and eventually leads to death.
He followed Ghost on the Canvas with a farewell tour that extended into 2012 and marked the end of his 60-year career. Backed by a band that included his children, Campbell traveled the globe while friends, including Kris Kristofferson, Jackson Browne, and Lucinda Williams, sat in with him individual concerts. His final live performance took place at a small theater in Napa Valley's North Bay.
Considered to be the original 'crossover' star from country music to pop, Campbell received his first guitar when he was 4 years old and learned to play with the help of relatives. He sang for his local church in Arkansas and then formed his first band, the Western Wranglers, when he was 18. Quite possibly Campbell achieved the zenith of his popularity during 1969 to 1972 while performing on The Glen Campbell Goodtime Hour, a variety show that aired on CBS.
Campbell continues to play golf and is considered to be quite healthy and vigorous. His family often invites musicians and friends over to the house — poet Jimmy Webb, who wrote Campbell's most beautiful lyrics, visited with his family over the weekend — and Campbell jams on his guitar as if unaffected by illness.
Published by Medicaldaily.com