Golden Corral Restaurant Pays $50K To Family Who Was Asked To Leave For Daughter's Skin Disorder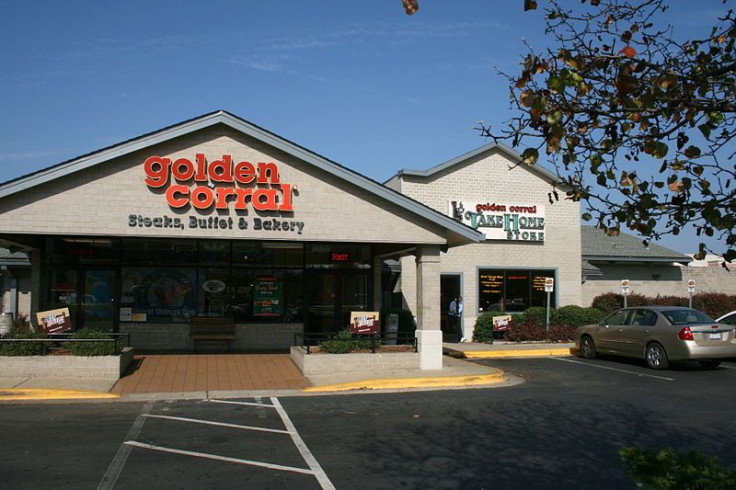 The Golden Corral restaurant chain has come under fire, stemming from a 2011 incident in which a family was asked to leave one of its Michigan establishments due to a child's skin disease. On Wednesday, the restaurant was ordered to pay the family $50,000 for denying service and another $10,000 in civil penalties.
Settlements involved with the lawsuit will require the restaurant chain to implement a policy that is in accordance with guidelines set forth by the Americans With Disabilities Act. Approval of the settlement is pending on U.S. District Judge Stephen J. Murphy III, Detroit Free Press reported.
U.S. District Attorney Barbara McQuade, who oversaw the Justice Department's lawsuit, said, "We hope that today's settlement will help prevent discrimination based on unfounded fears by raising awareness of the duties to accommodate individuals with less common disabilities."
While Danielle Duford and her four daughters were trying to enjoy a night out with the family, they were approached by restaurant manager Michael Cavanaugh. Cavanaugh made the distasteful request of asking the family to exit the restaurant due to one of the children's visible skin affliction.
One of Duford's daughters suffers from epidermolysis bullosa (EB), a genetic skin disorder that causes blistering around the area of skin affected by immense pressure, heat, or abrasions. A family history of the disorder is the only major risk factor for developing EB.
Although the mother tried to explain that her daughter's condition was noncontagious, Cavanaugh still insisted the family leave the restaurant, citing complaints from other customers.
In the suit, McQuade asserted that the restaurant manager's actions were in direct violation with the Americans With Disabilities Act, which was enacted by Congress in 1990 to prohibit the discrimination of a person based on disability.
Eve Hill, senior counselor to the Assistant Attorney General for the Civil Rights Division said, "No one should be excluded from participating in the basic activities of daily living on account of fears of their disability, nor should children be shamed from going out in public. ... We are confident today's settlement sends that message."
Published by Medicaldaily.com