Got Cramps? Fennel's Liquorice-Flavored Seeds Can Cure Menstrual Symptoms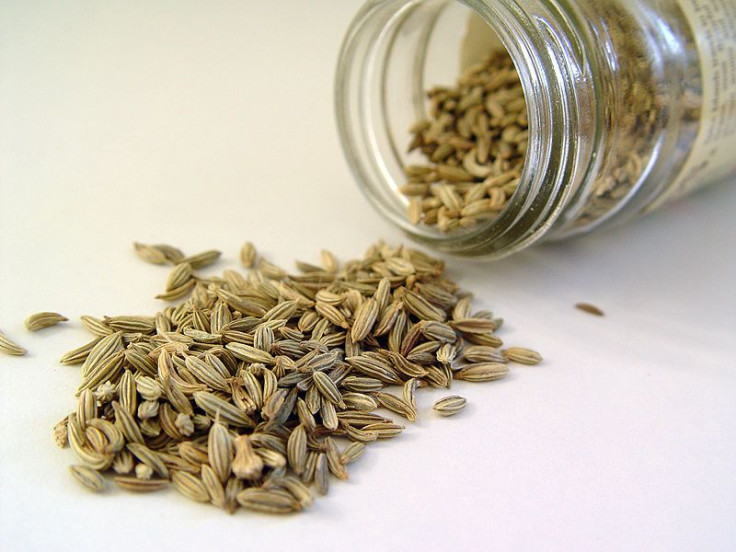 An ache below the midriff, the tossing and turning in your bed while you clench your arms to your chest, and the bottles of over-the-counter drugs on the table can only mean one thing — aunt Flo is coming for her monthly visit. Eighty-five percent of women who menstruate experience at least one pre-menstrual cycle syndrome (PMS) symptom during their monthly cycle, says Womenshealth.gov. These symptoms usually occur one to two weeks before the start of a period and go away one to two days after the monthly bleeding begins. According to Patient.co.uk, while PMS commonly affects women who are between 30 and 40 years old, the condition can impact a female at any age, including teens and preteens.
The physical and mental pain associated with menstruation can range from fairly mild to severe, causing an estimated three to eight percent of women with premenstrual dysphoric disorder (PMDD) to be inactive and on bed rest during the duration of their cycle. Treatment for PMS symptoms varies from women to women with the effectiveness of OTC drugs, such as Midol or ibuprofen, wearing off after two hours of use. Instead of popping OTC meds every few hours for PMS relief, researchers have found an all-natural remedy that can provide bitter-tasting, yet sweet relief to your monthly troubles: fennel seeds.
Six Other Home Remedies for Menstrual Cramps
Fennel And Your Monthly Cycle
An herb and spice, fennel seeds are widely known for their medicinal uses because they contain minerals, phytoestrogens, and phytonutrients that act as an antioxidant, anti-inflammatory, and antispasmodic, to treat PMS symptoms, says Discovery Health. In a study presented at the annual conference of the European Society of Human Reproduction and Embryology, researchers examined the effectiveness of drops of fennel in treating PMS symptoms. Thirty-six women, split into groups of three, were part of the sample size in this study. The first group was instructed to take a fennel extract three days before their period until three days after they started their monthly bleeding; the second group had to take the extract and do exercises; the third group, which was also the control group, was asked to go about their daily routines.
The researchers found that those taking the fennel extract showed the greatest signs of PMS relief. "After eight weeks, the severity of symptoms had reduced so much that they could do their jobs and have a normal relationships with their friends and family," Hassan Pazoki, a researcher on the study, told the Daily Mail.
Study: Vegetables High in Iron Reduce Severe PMS Symptoms

Depression In PMS And PMDD
Depression, a factor that has been linked to make PMS worse, was found to also have been greatly reduced by the consumption of fennel seeds in the study. If this mental symptom, accompanied by a series of other symptoms, occurs seven to 10 days before your monthly bleeding and goes away within a few days of your cycle, it can be a sign of PMDD, says My Cleveland Clinic. PMDD symptoms, unlike PMS symptoms, are severe enough to interfere with work, social activities and relationships.
How Much Exercise Is Needed To Fight Symptoms Of Depression?

PMS Symptoms Versus PMDD Symptoms
To determine whether you have PMS or PMDD, My Cleveland Clinic suggests to look for the following:
Signs of PMS
Bloating
Breast tenderness
Weight gain
Aggression
Trouble concentrating
Headaches/backaches
Skin problems / acne
Fatigue
Tearfulness
Irritability
Anxiety
Mood swings and/or depression
Signs of PMDD
Mood swings
Marked anger
Irritability
Tension
Decreased interest in usual activities
Fatigue
Change in appetite
Sleep problems
Physical problems, such as bloating
While the exact cause of PMDD is unknown, treatment for the condition usually includes altering certain habits, exercising more, taking vitamins, and having a caffeine-free diet. In addition, since PMDD has been linked to low levels of serotonin — the "feel good" hormone — doctors may prescribe anti-depressants, which may also treat other mental symptoms linked to the condition.
Birth Control Relieves Menstrual Pain, Study Confirms

Fennel In Your Diet
Fennel may not please your palate initially because of its bitter taste, but it can cure what may feel like an eternity of pain, according to the latest study. The good news is that fennel seed is used as a spice in lots of great dishes, so you don't have to take it on it's own if you prefer. Instead, sneak it into your diet under the cover of a delicious chicken dish.
Here's a fennel seed-based rub for chicken, fish or pork, courtesy of Bon Appétit magazine. For an easy fennel dish, try Roasted Fennel with Parmesan, courtesy of the Foodnetwork.com. Get adventurous with this recipe for Pork Chopps with Fennel and Caper Sauce, also from the Foodnetwork.com.
Published by Medicaldaily.com