Governor Cuomo Unveils Plan To Rid NY Of HIV, Reminds People They're Not Forgotten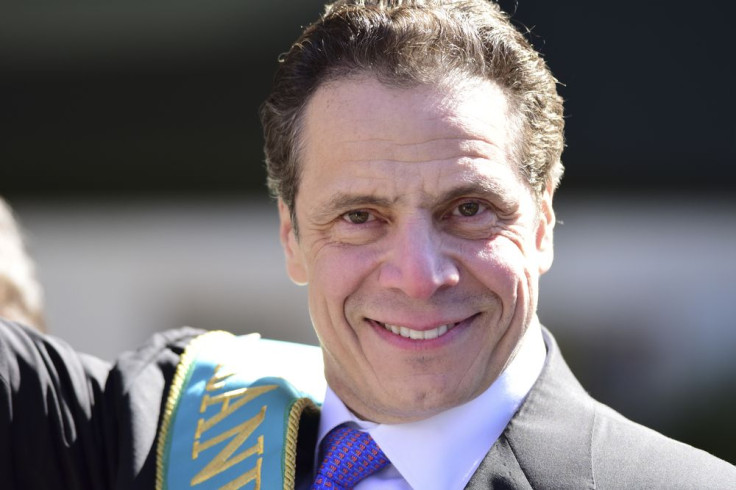 On Wednesday, New York Gov. Andrew Cuomo revealed a "blueprint" to end AIDS that aims to significantly reduce the number of new cases in the state by 2020.
At his speech, given outside the Lesbian, Gay, Bisexual, and Transgender Community Center in the West Village neighborhood, Cuomo reminded New Yorkers that the state has not forgotten the needs of HIV-positive individuals and the effort to reduce the number of new cases. The blueprint, he revealed, consists of recommended policies and legislation to help both prevent new AIDS cases and give better treatment to HIV-positive New Yorkers. The plan's immediate goal is to help cut new HIV cases from the current average of 3,000 a year to only 750 by 2020, but Cuomo also said that eventually he hopes the blueprint will help AIDS join "the list of diseases conquered by our society," the NY Daily News reported.
Although there are recommendations for legislative movements to control and treat HIV, the bulk of the blueprint includes recommendations which can be enacted without government intervention. These include greater use of strategies, such as increasing testing for at-risk people and encouraging more aggressive use of antiretroviral drugs for HIV-positive individuals, The New York Times reported.
Cuomo also spoke of increasing the availability of pre-exposure prophylaxis (PrEP), a treatment proven to prevent infection in HIV-negative individuals who are exposed to the virus. PrEP is a drug that when taken either daily or both before and after exposure reduces the risk of contracting HIV by more than 90 percent.
In 2014, the Centers for Disease Control and Prevention and the U.S. Public Health Service recommended that the pill be widely taken by individuals who engage in risky sexual behavior and those who are in a relationship with an HIV-positive partner. Cuomo highlighted that the drug Truvada was particularly successful in preventing HIV infection. However, according to The Times, many have expressed their fear that Cuomo's recommendation of widespread use of HIV prevention drugs may promote a causal attitude toward sex.
Other recommendations included giving housing assistance to HIV-positive New Yorkers and passing a bill to prevent discrimination against transgender people.
Skeptics of the guidelines expressed their concern of where the money to support this initiative will come from. The new state budget currently includes $10 million to support Cuomo's guidelines, although Cuomo has not revealed exactly how this money will be used.
Published by Medicaldaily.com