Great Recession Of 2008 Caused Surge In Suicide Rate Among Men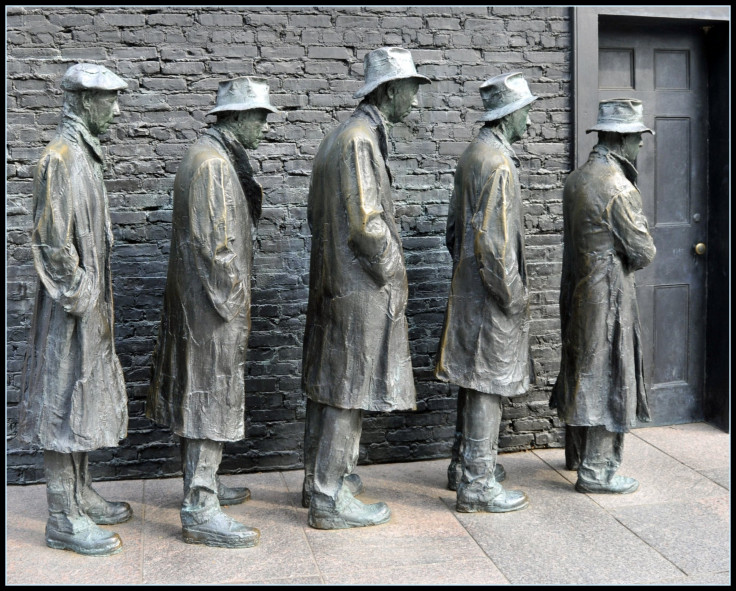 Suicide rates rose significantly around the world following the international economic crisis brought by the collapse of several large financial services firms on Wall Street and the resulting turmoil on world markets.
Around the globe, suicides rose in 2009 by 5,000 — mostly among men — as 34 million jobs were lost in comparison to the previous year, researchers from Hong Kong and the United Kingdom found in a new study. Examining the suicide rates of 54 countries, researchers found a "marked rise in suicide following the 2008 economic crisis," compared with expectations based on previous trends.
The rises in suicide rates in the Americas and European countries appeared to match rises in unemployment, particularly for men and for workers in countries with previously high employment levels. In 2008, the International Labour Organization warned that worldwide unemployment rates would rise to 212 million the following year. Subsequently, the World Health Organization (WHO) alerted public health officials around the world to potential population health problems, particularly among the poorest.
Researchers at the University of Hong Kong, University of Bristol, and University of Oxford used data from WHO, the U.S. Centers for Disease Control and Prevention, and the International Monetary Fund's "World Economic Outlook" database to gauge the influence of economic problems on suicide rates. They began with the year 2000 as a baseline, given that suicides had risen under the influence of economic recessions in the late 1990s, parsing differences in suicidality by age.
In 2009, worldwide unemployment rose by 37 percent with a three percent fall in gross domestic product (GDP) per capita, with European countries experiencing rising unemployment in 2009 and 2010, following trends in the United States and Canada that began roughly a year earlier (after the collapse of several large financial services firms on Wall Street).
Overall, suicide among men rose worldwide in 2009 by 3.3 percent in the 54 countries studied. Increases in suicides were seen primarily in Europe, rising by 4.2 percent, and in 18 North and Central American countries at 6.4 percent. Much of the rise in suicidality was observed in young European men, ages 15-24, and in middle-aged American men, ages 45-64, with no changes among European women and only a slight uptick among American women.
The researchers said rises in depression and anxiety among economically afflicted populations beginning in 2008 matched patterns seen in the Great Depression. Yet, the findings are "likely to be an underestimate of the true global impact of the economic crisis on suicide," the researchers concluded.
Source: 2008 Economic Crisis Could Be To Blame For Thousands Of Excess Suicides Worldwide. British Medical Journal. 2013.
Published by Medicaldaily.com