Group Of Doctors Urge Columbia University To Fire Dr. Oz Over 'Quack' Treatments And Cures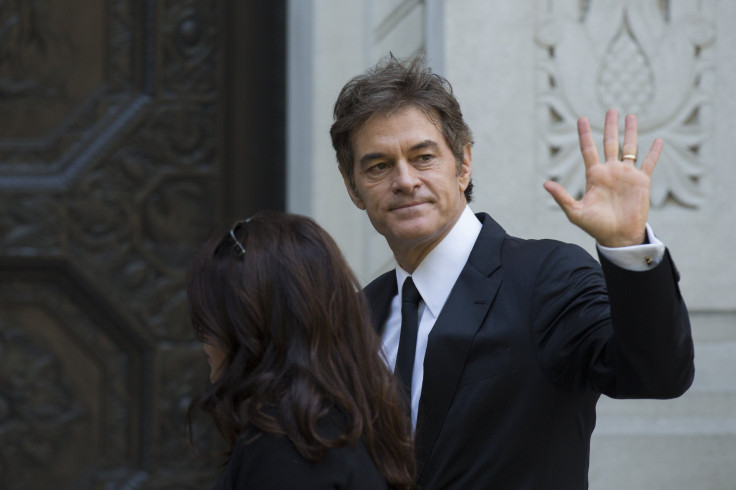 Ten doctors from around the country are calling for Dr. Mehmet Oz's dismissal from his current faculty position at Columbia University. In a letter sent to Columbia's Dean of the Faculties of Health Sciences and Medicine, the physicians underline Oz's "disdain" for evidence-based medicine, "baseless and relentless opposition" to genetically modified crops, and "egregious lack of integrity" in promoting "quack" treatment and cures.
Following an explosive rise to fame in 2009 with his Dr. Oz show, the TV doctor's reputation has soured in recent years as mainstream science began digging deeper into his outlandish claims. In December of last year, researchers discovered only 46 percent of the claims were backed by evidence. Even worse, 15 percent of the claims actually contradicted the prevailing scientific wisdom. While the show protects itself by billing the information as entertainment, many are beginning to have doubts where the line between health advice and theatrics really falls.
"We are surprised and dismayed that Columbia University's College of Physicians and Surgeons would permit Dr. Mehmet Oz to occupy a faculty appointment, let alone a senior administrative position in the Department of Surgery," wrote Dr. Henry Miller, of the Hoover Institution at Stanford University, in the letter to Columbia's Dean, Dr. Lee Goldman.
Miller along with nine other physicians cited several major points of contention with the television doctor. On multiple occasions, they argue, Dr. Oz has rejected evidence-based medicine in favor of supposed "miracle" cures. The most egregious of his claims, the supposed "miracle cure" Green Coffee Bean extract, landed Oz in front of a Senate hearing last June and prompted Sen. Claire McCaskill to chastise the doctor for making claims when "you know it's not true."
Other complaints from the physicians tackle Oz's opposition to genetic engineering of food crops despite the evidence that shows the process poses no health risks. But worst of all, the physicians allege, is the compromise Oz has made throughout his career to promote unfounded treatment and cures "in the interest of personal financial gain."
In January of this year, the Federal Trade Commission settled with the makers of Green Coffee Bean extract, Pure Health and Genesis Today, for $9 million. The suit partly involved Oz because on numerous occasions Genesis Today's CEO, Lindsey Duncan, appeared on Oz's show to promote Green Coffee Bean extract's power in promoting weight loss. Then, before the show aired, Duncan would purchase advertising space to manipulate future sales, exploiting the now-infamous "Oz Effect."
"Thus, Dr. Oz is guilty of either outrageous conflicts of interest or flawed judgements about what constitutes appropriate medical treatments, or both," the doctors wrote.
In response, a university spokesperson emailed the doctors reassuring them that "Columbia is committed to the principle of academic freedom and to upholding faculty members' freedom of expression for statements they make in public discussion."
Whether those statements are genuinely intended to help people lead healthier lives or simply to entertain them is still a matter of controversy.
Read the full letter below:
Published by Medicaldaily.com