Gum Disease Raises Chances of Men Having Erectile Dysfunction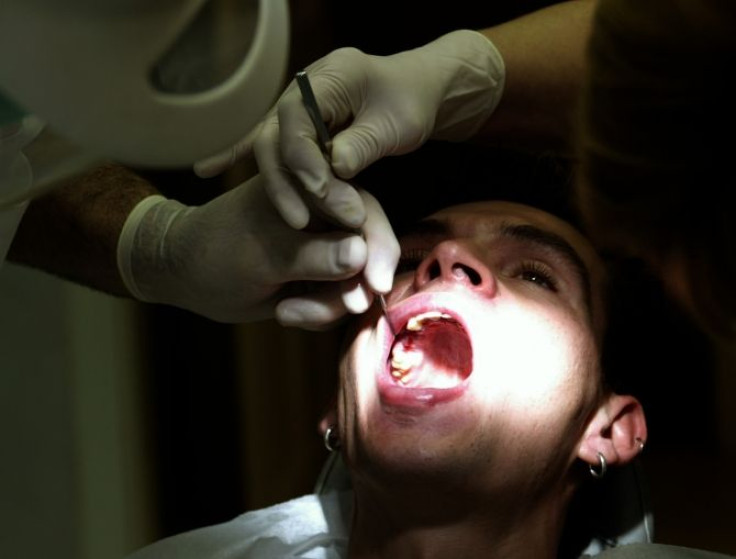 Men who have inflamed gums caused by severe periodontal disease are more likely to suffer from erection problems, a new study says.
The study conducted by researchers from Turkey found that periodontal disease raises the chances of the men over thirties experiencing erection related problems.
Periodontal disease is the infections of gums and bones that support the teeth. In the early stages the disease is called gingivitis. Later, as the disease progresses, the gums become swollen, red and even bleed. in some cases, the gums may come out and the teeth may fall off, according to Centers for Disease Control and Prevention.
"Chronic periodontitis (CP) is a group of infectious diseases caused predominantly by bacteria that most commonly occur with inflammation of the gums," said Dr. Faith Oguz from Inonu University in Malatya, Turkey. "Many studies have reported that CP may induce systemic vascular diseases, such as coronary heart disease, which have been linked with erection problems."
The study was conducted on a small group of 160 men; 80 of which had erectile dysfunction. Researchers found that 52 percent of men who had erectile dysfunction had inflamed gums while 23 percent in the control group had periodontal disease.
After controlling for other factors like age, body mass index, household income and education levels, researchers found that men with severe periodontal disease were 3.29 times more likely to suffer with erection-related problems than men who didn't have gum diseases.
"Erectile dysfunction is a major public health problem that affects the quality of life of some 150 million men, and their partners, worldwide," said Oguz, who is the lead author of the study according to a statement. "Physical factors cause nearly two-thirds of cases, mainly because of problems with the blood vessels, with psychological issues like emotional stress and depression accounting for the remainder."
Erectile dysfunction affects as many as 30 million men in the U.S., according to National Kidney and Urologic Diseases Information Clearinghouse.
Oguz said that periodontal disease and erectile dysfunction share some of the risk factors like ageing, smoking, diabetes type-2 and coronary heart disease.
"The result of our study support the theory that CP is present more often in patients with erectile dysfunction than those without and should be considered as a factor by clinicians treating men with erection problems," said Oguz.
Another study, present earlier this year, had also found a similar association between gum disease and erection problems. This study included about 195,000 Taiwanese men with or without erectile dysfunction.
Published by Medicaldaily.com