Simple Gymnastics Bridge Leaves 5-Year-Old Paralyzed And Wheelchair-Bound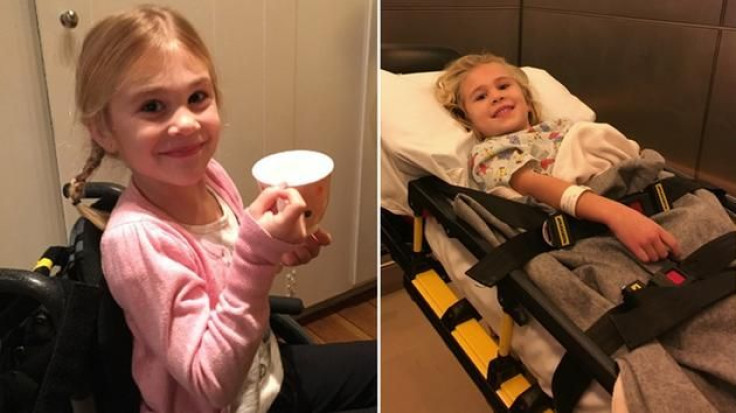 One of the signature moves little gymnasts perform is called the bridge, essentially a backbend that arches the back. But when 5-year-old Eden Hoelscher bent backwards on Dec. 23, 2015, something went wrong. The simple move, which her mother says she's done hundreds of times, left the once active girl paralyzed.
"I walked by the girls and Eden was doing a backbend and I said, 'Eden, just be careful.' All of a sudden, my other daughter came in and said, 'Eden's on the floor, crying,'" Eden's mother Kylee Hoelscher told ABC News.
Hoelscher gathered Eden up in her arms and rocked her to help calm her down. But after thirty minutes, when Eden finally stopped crying, she looked up at her mother and her face changed and said, "Mom, I feel like my feet are sleeping." Hoelscher immediately told her to move her leg, which was positioned strangely on the bed. Eden stared at her leg and said, "I can't, Mom."
They immediately went to the Torrance Memorial Medical Center in California, where results from a magnetic resonance imaging scan revealed a contusion on her spine. Soon after, doctors broke the news to Hoelscher and her husband Nicholas that their daughter was now paralyzed from the waist down.
The backbend had hyperextended her spine, which caused the artery running through her spinal cord to stop pumping blood. Then, following the halted blood flow and overstretched ligaments in her back, Eden suffered a stroke in her spinal cord too.
The extent of the damage in Eden's spine is rare. According to the Boston Children's Hospital, only 5 percent of all individuals with spinal cord injuries are children.
The spinal cord plays such an integral role in how the body functions, which is why a spinal cord injury poses the risk of widespread damage. The spinal cord is a bundle of nerves that relays information from the brain to the rest of the body, including joints, ligaments, skin, and organs. In Eden's case, the spinal cord damage was serious enough to stop her bowels and bladder from functioning.
"It's just one of those enigmas," said Eden's neurological physical therapist Julie Herschberg, who works at a physical therapy and wellness center in Los Angeles. "She is a tough little girl full of a lot of fight and determination. Kids could be hard to keep on task and focused, but she is probably the hardest working child or adult I've ever worked with. I think that's going to go a long way in her recovery. She just blows me away."
Eden will undergo two weeks of intensive physical therapy at Kennedy Krieger in Baltimore, Md. and then three months of locomotor training — a type of therapy designed to improve walking through strategic movement — in Frazier Rehab in Louisville, Ky. Walking is the ultimate goal for Eden, but 90 percent of children who experience spinal cord injuries before the age of 10 develop scoliosis later on in life. She also faces a greater risk for osteoporosis, arthritis, and kidney problems. Eden's family and friends started a GoFundMe page, titled "Stand For Eden," to help raise money for the accumulating medical expenses the family has incurred over the short period.
"Even if she doesn't walk again, [I] just want her to know she's the most amazing person out there," Hoelscher said. "She just has this grin that's so infectious. If she could be the one person that inspires people to go into research for pediatric spinal injuries, if she could help one person, that'd be enough."
Published by Medicaldaily.com