Gymnasts Exposed To High Levels Of Flame Retardants In Gym Equipment: Can 'Pit Dust' Be Deadly?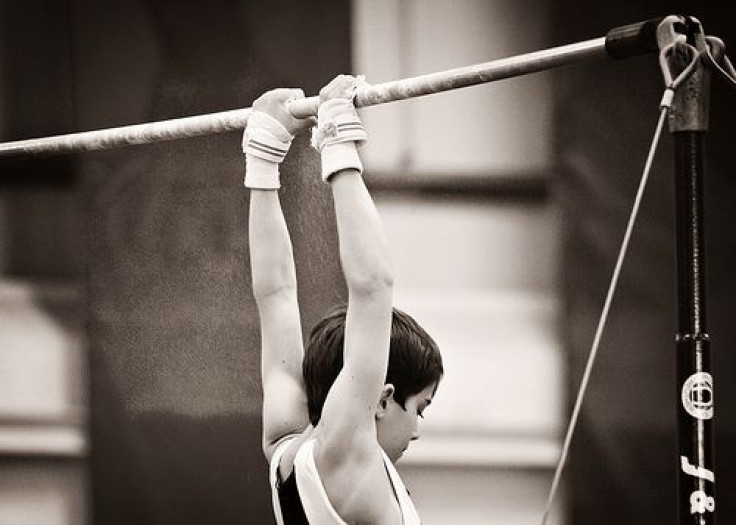 Collegiate gymnasts, athletes who have been competing for 10-19 hours per week for over a decade, were found to have traces of flame retardants in their blood at levels nearly seven times higher than the general population, a recent study found.
Flame retardants are found in places far beyond the gymnasium. They're used in insulation in homes, which means they're often found in traces on furniture and electronics, too. But while flame retardants can creep into anyone's bloodstream, gymnasts were found to be particularly liable for exposure due to the constant pounding of dusty gym mats and graceful falls into foam pits, which the athletes off-handedly refer to as an "eating pit," before they emerge coated in a loose film of dust.
Before 2005, U.S. manufacturers of polyurethane foam commonly included the fire retardant pentabrominated diphenyl ether (PentaBDE) in their products. But after the European Union banned the substance, fearing health hazards, the chemical ingredient soon got phased out stateside. However, many gymnasiums continue to use the retardant in their gyms, especially ones whose mats had become mainstays since before the shift.
Some gyms have incorporated newer equipment, which employ more upgraded forms of flame retardants, yet certain research even classifies these as harmful.
Led by Dartmouth College researcher Courtney C. Carignan, the research team collected air and dust samples from two gymnastics gyms in the eastern U.S. They also recruited 11 collegiate female gymnasts to test for PentaBDE retardants and other persistent organic pollutants (POPs) in their blood. The POPs functioned as controls, as researchers expected these levels to be lower than the general population's and the PentaBDE levels to be higher, if they were coming from the gym directly.
As it turned out, the researchers' suspicions were confirmed. Most components of the PentaBDE were two to three times higher than the general population, but one component's, called BDE-153, were four to 6.5 times higher. These are roughly equivalent to the levels one would find in the bloodstreams of carpet installers and those who work in foam recycling.
Carignan and her team believe the flame retardants must have entered through inhalation or ingestion, and because of where the greatest sources of dust were found — mats and foam pits — this may have occurred at the point where gymnasts first push off the mat and, finally, when they "eat pit."
Health-wise, the dangers posed to the gymnasts mostly concerns their age. Most gymnasts are still pubescent, a period in life when the body's responses to foreign pollutants are often volatile. In children, exposure to PentaBDE can lead to behavioral problems and has even been found to pose a small risk for decreased fertility.
While Carignan and her colleagues did not evaluate the gymnasts health for any adverse side-effects, retardant-containing dust has widely been found harmful to an individual's health.
"If you really look at what's in your dust, particularly for some chemicals, it's just as concentrated—or more—as what you'd find in sewage sludge," Heather Stapleton, associate professor of environmental chemistry, said in a statement.
And the health effects are as dire as ingesting sewage sludge may lead on. Studies have shown PentaBDE components to be harmful to neurobehavioral health, including induced memory problems, problems with attention, learning, and fine-motor control.
While Carignan's present study doesn't advise gymnasts to quit participating in their sport, she has built a website to help athletes better understand the risks they are incurring through the activity.
"We are not recommending that anyone change gyms or stop doing gymnastics," the website explains. "There are many health benefits to gymnastics and we understand that foam equipment is necessary for ensuring physical safety. Some gyms may be required by local fire codes to use flame retardant foam. Our goal is to provide information to help inform decision-making."
Published by Medicaldaily.com