H7N9 Bird Flu: Who It Struck And Will It Return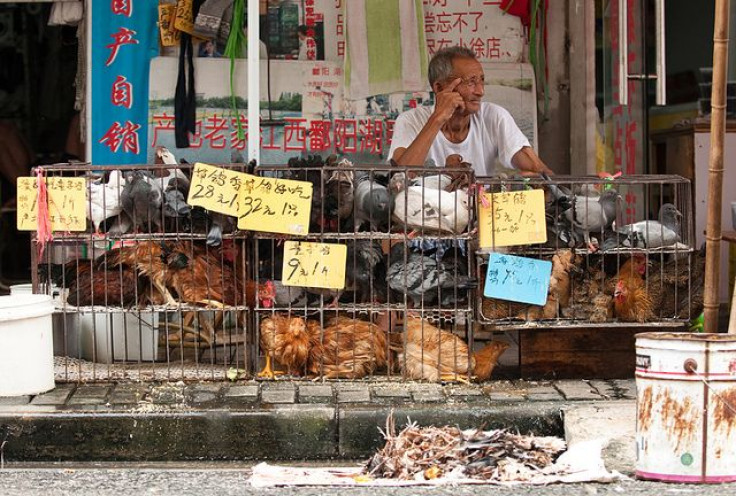 Over 130 cases and 37 deaths have been attributed to the virus since the H7N9 influenza strain appeared in February. In two Lancet studies published today, China's Center for Disease Control and Prevention (CDC) takes a look at who caught the germ and provide the most complete picture to date of the severity of outbreak. This investigation may help public health experts predict who is most at risk for catching the virus if it resurfaces, which they announce could happen later this year.
"Assessing the severity profile of human infections is vitally important in the management and treatment of any infectious disease outbreak," wrote the researchers, who mined national surveillance data to conduct the analysis. In China, all hospitals were required to submit detailed medical reports on H7N9 cases to central, government-run database.
The Who And The When...
The studies found a higher density of H7N9 in urban areas, with 72 percent being in cities versus the countryside. Officials believe the virus most likely jumped from chickens and ducks to humans, and for both urban and rural locales, more than two-thirds of the cases were exposed to live poultry.
The most common context for exposure was visiting a chicken market (33 percent). Men in urban areas were three times more likely than women to contract the disease, and the authors argued that this was because metropolitan men do most of the retail shopping. Most rural cases involved people on the outskirts of cities traveling to chicken markets in nearby urban centers.
Surprisingly, only 19 percent of cases were linked to working with chickens via 'occupational exposure' or raising backyard birds.
Similar to seasonal flu, the most lethal cases of H7N9 came in people who were over 60 years old. The elderly accounted for 76 percent of fatalities at hospitals and 55 percent of all cases.
The researchers found that the 'fatality risk' - the odds of a person dying after they display symptoms - was higher than initially reported. Early assessments put this risk level at 25 percent, but their estimates say it is acutally 36 percent. Put differently, one in three symptomatic patients would be expected to die.
A clinical review showed that it takes about three days for a patient to display symptoms.
"Quarantine or medical surveillance for close contacts need not last longer than one week, since more than 95% of patients would present within seven days of infection, wrote the authors," wrote the Chinese CDC team.
It took about three more days for most patients to head to the hospital. If the public becomes more cognizant on how to spot the symptoms, this could dramatically shorten the time that it takes for people to seek help.
The outbreak may also have been more widespread than initially reported. The Chinese CDC uncovered six patients from the national surveillance data who had mild to moderate illness.
During the outbreak, health officials were mainly focused on treating severe illness, so it is possible that several more cases of mild disease were overlooked.
"Our results thus support continued vigilance and sustained intensive control efforts against the virus to minimize risk of human infection, which is greater than previously recognized," wrote the Chinese CDC team.
...And The How Dangerous
The researchers compared the H7N9 outbreak to another strain of bird flu that frightened the world when it appeared back in 2003: H5N1. The two viruses have a lot in common. Both emerged in China. Both don't readily spread from person-to-person, and both most likely jumped from domestic poultry to humans.
However, H5N1 is far more lethal, with a global death toll of 375 out of 630 confirmed cases. (45 cases and 30 deaths have been in the China). This sets H5N1's fatality risk at 65 percent, which is nearly twice the figure for H7N9 (36 percent). H5N1 is also more likely to strike the young — between the ages of 0 to 39 — and those living in rural areas, which is a sharp contrast to H7N9.
Overall, H7N9 appears to be a less potent killer than H5N1, but a better spreader, especially in cities and the elderly.
Now that it is summer and the traditional flu season is over, it is not surprising that the incidence of H7N9 has declined. Only two confirmed cases have been identified since May 8, but the authors warn that the virus is still out there and could return when temperatures drop this fall.
"If H7N9 follows a similar pattern to H5N1, the epidemic could reappear in the autumn. This potential lull should be an opportunity for discussion of definitive preventive public health measures, optimization of clinical management, and capacity building in the region in view of the possibility that H7N9 could spread beyond China's borders."
Sources: Yu H, Cowling BJ, Feng L, et al. Human infection with avian influenza A H7N9 virus: an assessment of clinical severity. Lancet. 2013.
Cowling BJ, Jin L, Lau EHY, et al. Comparative epidemiology of human infections with avian influenza A H7N9 and H5N1 viruses in China: a population-based study of laboratory-confirmed cases. Lancet. 2013.
Published by Medicaldaily.com