Hajj Head Shaving Poses Risks For Pilgrims, Saudi Health Ministers Warn: Unlicensed Barbers, Shared Razors Can Spread Viruses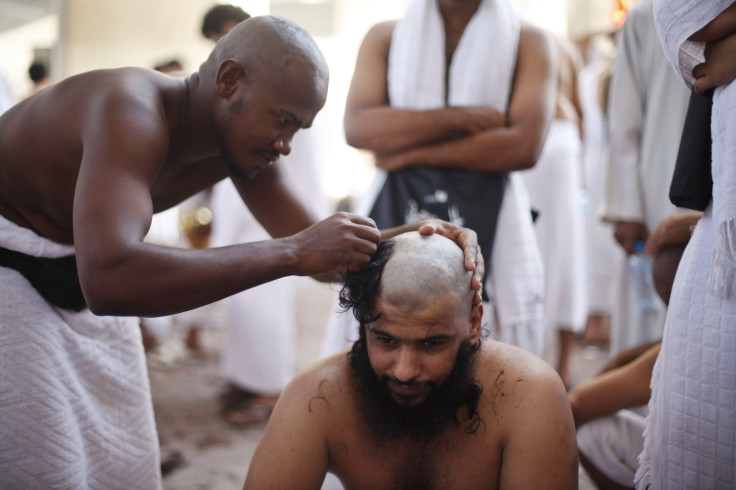 For those making their way to the holy city of Mina this year, the traditional custom of shaving heads will be taking place, albeit with many health concerns.
For many Muslim men, the cost of going to a proper barber to shave their heads is far too expensive. Those looking for a free or cheap shave turn instead to the hundreds of unlicensed barbers that appear in the Saudi Arabian city around this time of year, many of whom use the same razor on every head passing beneath their hands.
Shaving one's head is a ritual undertaken during hajj, a holy pilgrimage, which adheres to the Prophet Mohammad's wishes. So when Saudi health officials publicly warned about the potential risks of receiving shaves from unlicensed barbers during this holy event, many pilgrims chose to believe that God will take care of them regardless.
"I'm shaving my head because this is what the Prophet asked us to do, and it's really hot now, so having a shaved head isn't a bad idea," Yemeni Mohamed Hassan told Reuters. "We are on haj, so God will cause no harm to us." Reuters reported that as Hassan got his head shaved, he wiped away blood dripping from his scalp.
The hajj is a central pillar of Islam that involves four days of spiritual cleansing. It's a voyage that every able-bodied Muslim must make once in their lifetime, according to the traditions of the Prophet Muhammad.
This year, the crowds for the hajj have already decreased due to concerns over a respiratory virus in the Arabian peninsula, the MERS virus. Saudi officials restricted visas for elderly people, pregnant women or those with chronic illnesses to prevent more cases of the coronavirus, which has already killed more than 50 people in the area.
Reuters reports that around 60 percent of the pilgrims receive head shavings from unlicensed barbers, or shave themselves, rather than going to official barbers sent in by the government authorities. By using the same razor or knife on every head, the act of shaving in such circumstances increases the risk to spread and contract viruses like HIV, Hepatitis C and B, and malaria.
"Sharing razors can be incredibly dangerous," Amin al-Mahdi, physician manager of a hospital in Mena, told Reuters. "And even through dirty hands there's a risk of getting mange and other skin infections."
Despite the warnings from authorities, Muslim pilgrims continue to receive their shaves from those that offer it to them for free. "I can't afford to pay anything over 10 riyals ($2.7) and the barbers that the government approves here are expensive," Salam Assem, a factory worker from Egypt, told Reuters.
On its website, the Centers for Disease Control and Prevention lists ways to prevent health risks for those travelling or participating in the hajj.
Published by Medicaldaily.com