Handful Of Walnuts A Day Keeps The Doctors Away, But What About This Certain Nut Makes It So Healthy?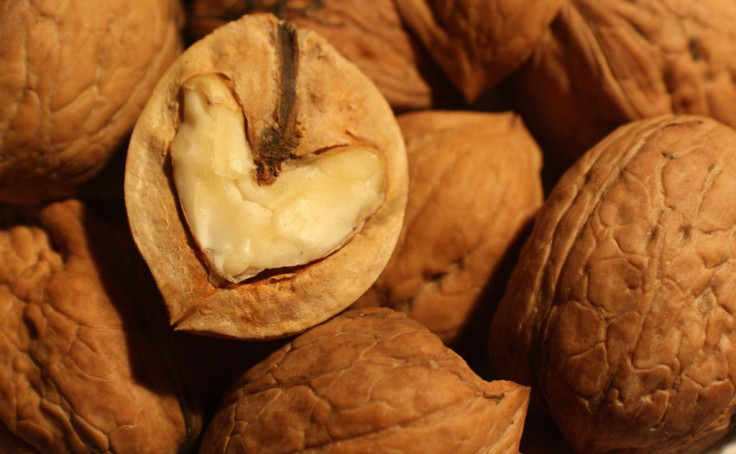 If you haven't added a healthy serving of nuts to your diet, then you're not even doing the bare minimum. From prostate cancer to memory loss, there seems to be nothing a handful of nuts can't fix. A recent study published in the journal BMJ Open Diabetes Research & Care has found that adding a daily handful of walnuts to our diet can not only improve our overall health, but it can also improve certain risk factors associated with a high risk for diabetes.
"Our data suggest that inclusion of walnuts in the diet, with or without dietary counselling to adjust caloric intake, improved diet quality and may also improve [endothelial function], and reduce total and LDL cholesterol in this sample of adults at risk for diabetes," the research team said in a statement.
Researchers led by Dr. David Katz from the Yale University Prevention Research Center recruited 112 men and women between the ages of 25 and 75 who were considered high risk for diabetes. Participants were either asked to follow a diet designed to curb calorie intake or one that wasn't. Among these two groups, participants were randomly assigned either the addition of 56g of walnuts per day or complete avoidance of walnuts.
The research team also assessed each participant's height, weight, BMI, waist circumference, blood pressure, cholesterol, fasting blood glucose, and HbA1c, which gives an indication of average blood glucose levels over time. The Health Eating Index 2010 was used to evaluate the diet quality of each group. Participants who were able to improve upon their diet exhibited a lower risk for heart complications and other long term health conditions.
Although walnut consumption had little to no effect on blood pressure, fasting blood glucose, HDL "good" cholesterol, or HbA1c, it did significantly reduce total and LDL "bad" cholesterol levels among participants who ate them each day. This far from the first study to show this link. A similar study conducted by a team of researchers from Penn State, Tufts University, and the University of Pennsylvania also showed that a decline in cholesterol caused by walnut or walnut oil can lead to a lower cardiovascular risk.
So what is it about walnuts that makes them such a welcomed addition to the diet of anyone looking to get healthy? One of the effects daily walnut consumption had on the participants that peaked the research team's interest was how it improved endothelial cell function. Endothelial cells, which line the walls of all blood vessels in the body, enable certain chemicals and blood gasses to pass through by forming a barrier between blood and other body tissues.
Walnuts may be packed with essential fatty acids, folate, and vitamin E, but they're also high in calories. This explains why some participants adhering to a walnut-rich diet experienced an increase in body fat. However, this only occurred among participants who added walnuts to a diet that was not calorie restrictive. Adding walnuts to your diet can have a lasting impact on your overall health, but like all good things, remember to enjoy them in moderation.
Source: Katz D. Walnut ingestion in adults at risk for diabetes: effects on body composition, diet quality, and cardiac risk measurements. BMJ Open Diabetes Research & Care. 2015.
Published by Medicaldaily.com