Hayley Haynes, Woman Born Without A 'Womb,' Gives Birth To Twin Girls Via Hormone Therapy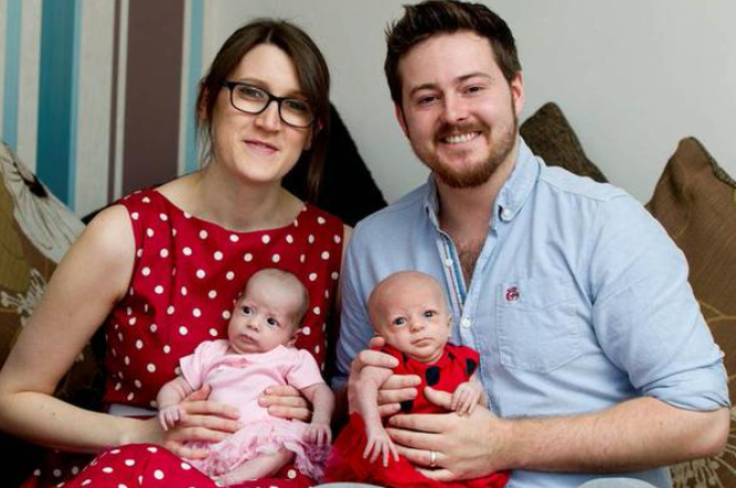 An English woman born without a "womb" and told by doctors she would never conceive defied all odds and gave birth to not one but two girls. Hayley Haynes, then 19, was told by specialists she had been born with XY chromosomes, meaning she was genetically male with no reproductive organs. Now, Haynes and husband Sam, both 28, are overjoyed to have become parents via hormone therapy after a tough nine years of what they thought would be a childless future.
The mother of two gave birth naturally on Christmas Eve. Although they were premature, the girls were healthy, and Haynes is ecstatic about the successful birth. "Becoming a mother was the single most amazing moment of my life. When I held the babies in my arms for the first time I was overwhelmed. I had spent nine years coming to terms with the fact this might never happen, but in that moment all the pain just washed away," said Haynes, the Mirror reported.
The new mother did not know she was growing up differently until she was 19 and had not started her period, despite going through other signs of puberty. Haynes was diagnosed with androgen insensitivity syndrome, a genetic condition, inherited (except for occasional spontaneous mutations) where a person is genetically male but is resistant to male hormones, according to Medline Plus. In other words, the person, like Haynes, has some or all of the physical traits of a woman but the genetic makeup of a man.
Haynes's hopes of being a mother were shattered until specialists found a tiny womb missed on previous scans in 2007. Although she couldn't conceive naturally, she could have the option of in vitro fertilization (IVF), which her womb was ready for in 2011. Haynes had a 60 percent chance of being pregnant through IVF.
The couple successfully conceived after using Sam's sperm and harvesting 13 eggs, two of which were viable. Six weeks later and pregnant, Haynes found out both eggs had taken and she was expecting non-identical twins. "I couldn't believe it. I freaked out, but I was over the moon at the same time. I had the chance to have a complete family," Haynes said. Sam added: "I felt numb with excitement. It was two for the price of one."
The twin girls were born on Christmas Eve prematurely but healthy, with Avery (5 pounds, 3 ounces) and Darcey (4 pounds, 6 ounces).
Now more than ever, it seems women have had medical help to have their babies. The latest annual report from the Society for Assisted Reproductive Technology showed doctors in in vitro fertilization clinics in the U.S. performed 165,172 procedures, including IVF, with 61,740 babies born as a result of those efforts in 2012. Doctors recommend women to give birth to a single baby because even with medical advances like IVF treatment, multiple births can still be risky for mothers and babies alike.
Published by Medicaldaily.com