Health Benefits Of Meal Prep: Children Have Healthier Eating Habits When Their Parents Spend Prepare Home-Cooked Meals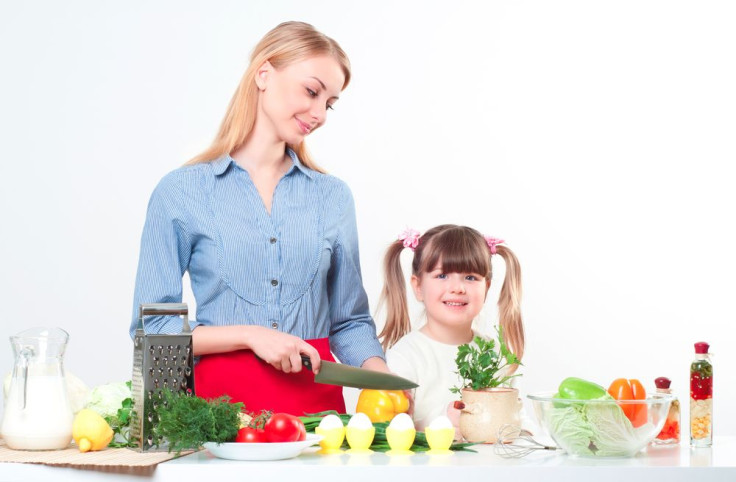 Eating food that we cook at our home can be a better decision in the long-run compared to eating out at restaurants and fast food joints. Not only it is more cost-effective, but research also shows it is conducive for healthy eating habits. A recent study presented at the Annual Meeting of the Society for the Study of Ingestive Behavior (SSIB) has revealed that the amount of time a parent puts into preparing a meal plays a significant role in their child's decision to eat healthier foods.
"In general, research shows that children tend to eat inadequate amounts of nutrient-rich foods while eating large amounts of sugary and fatty foods," Catherine Shehan, Penn State graduate research assistant, said in a statement. "It's encouraging to see that parents can possibly affect the quality of their children's food choices outside the home by spending more time cooking."
A research team from Penn State's Department of Food Science and Department of Nutritional Sciences recruited 61 children from age 4 to 6 and their parents to participate in the study. The families were asked to make two trips to the laboratory for testing. Children were given food options, including high energy dense food like cookies and chicken nuggets as well as low-calorie foods like grapes and broccoli, which they tested and rated, after which they were given unlimited access to these foods without instruction or interference from their parents.
While their children were free to gorge on either high-calorie or low-calorie food options, parents answered questionnaires regarding their child's food preferences and eating habits, the family's socioeconomic status, and how food plays into their environment at home. The children of parents who reported spending more time preparing food at home were more likely to choose meals with lower calorie count without their parent's guidance compared to children whose parents did not devote their time to preparing food at home.
"Even after controlling for family income and whether or not children had a parent at home full time, we found that children whose parents spend more time cooking make better choices," Shehan added. "Our food preferences develop early in life, so getting young children to eat nutritious foods can help them stay healthy in the long run." According to the American Obesity Coalition, part of the problem with eating out while adhering to a healthy diet is that Americans expect to get their money's worth at restaurants via large portion sizes.
Restaurants tend to serve two to three times more than healthy portion sizes that are recommended by the U.S. Dietary Guidelines. Chefs at major chain restaurants are also less concerned with calorie count and more interested in creating delicious food options that keep customers coming back.
Source: Shehen C, et al. Annual Meeting of the Society for the Study of Ingestive Behavior. 2014.
Published by Medicaldaily.com