Health Care In The NFL: Are Football Players' Medical Needs Being Met?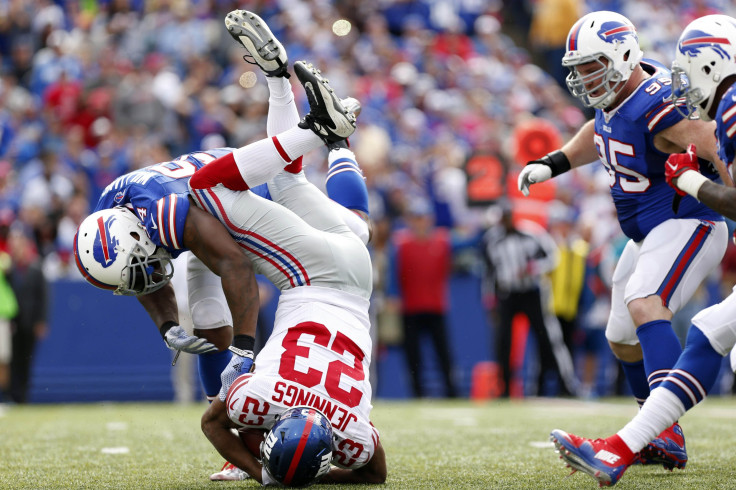 Football is a highly risky sport when it comes to players' risk of injuries. Actually, every single player in the National Football League (NFL) is expected to experience an injury during his career — it's only logical, given the rough nature of the sport. What isn't logical or justified, however, is the way physicians and medical teams treat their injured players. Over the last few years, many of the NFL's teams have faced increasing scrutiny over their injury policies, as more and more of their players seem to get inappropriate or incomplete medical treatment.
Collateral damage from painkillers
Being a professional athlete is almost mission impossible without painkillers. The physical stress and tension that modern sport gladiators experience during each and every match are often alleviated with the help of various painkillers. However, doctors who fill their patients-players with pills to enhance their performance carelessly play with their patients' health. For instance, former Chicago Bears defensive end Richard Dent claimed that he once played for eight weeks without knowing he had a separated toe — with only painkillers for treatment, this subsequently led to nerve damage. In addition to this injury, his excessive use of painkillers also led to the development of an enlarged heart.
This over-prescribing of painkillers, according to a lawsuit involving over 1,300 former and current players, enabled doctors to push the players back onto the field before they could fully recover. Many of them, it says, went on to develop chronic, debilitating conditions. These practices, if they're true, harm the brand and the game in general.
Hippocrates or Hypocrites?
The Hippocratic Oath is a set of ethical rules that every medical practitioner should follow in their career; one of its tenets states doctors should treat the sick to the best of their abilities. These standards make it clear that a physician should ensure they never cause danger to a patient's health, and this includes football players. If the allegations the aforementioned players have made are true, then the NFL's medical teams have been passing on untruthful medical data in the interest of getting players to play without having healed their injuries. What's more, some players claim that their teams not only filled prescriptions for their painkillers without their knowledge but also handed them out along with a plentitude of other medicines — in so-called "cocktails." These claims led the Drug Enforcement Administration to carry out its own investigation on the San Francisco 49ers, Tampa Bay Buccaneers, and the Seattle Seahawks.
In the eye of marketing storm
NFL professional get a lot of publicity and many of them earn lots of money off the field. The highest-paid players when accounting for endorsements and salary are Ben Roethlisberger (Pittsburgh Steelers, $48.9 million), Ndamukong Suh (Miami Dolphins, $38.6 million), and Carlson Palmer (Arizona Cardinals, $29 million), and many companies invest in promoting these players to the public.
This seems reasonable and legal; however, the problem is that many teams have similar marketing agreements with hospitals, too. In these agreements, hospitals typically pay a certain amount of money to become affiliated with an NFL team, or they become marketing partners with an NFL team in exchange for medical services at lower rates, Slate reported. If a hospital whose revenue depends on the success of a football team provides medical services for that same team, wouldn't they do anything to keep that team successful at all costs? Such incentives for the medical teams might contribute to the alleged liberal dispensing of painkillers, and on a broader scale, can harm the players in other ways. This conflict of interest is also a thorn in a public eye, and
Concussions lead to change
Despite these health care fumbles, some of which may still occur today, the League's officials have expressed the intention to improve the quality of medical treatment for its players — after all, the NFL remains of the most popular national sports leagues in the U.S. Beyond that, the public is increasingly learning that footballers of all skill levels can be at risk for health issues. Players suffer hundreds of concussions during their careers, and some evidence has suggested these can lead to severe brain diseases — it was recently determined that former NFL lineman Adrian Johnson Jr., who committed suicide, had chronic traumatic encephalopathy.
In particular, Hall of Famer Mike Ditka, who coached the Chicago Bears to win Super Bowl XX, has called for a more careful approach to the concussion problem. He even said that he himself wouldn't want his child to play the sport. And as more scientific studies show the issues that arise from concussions in the long term, the League and authorities will begin to feel increasing pressure to put players' health over any financial interests. In fact, the NFL has already settled a class-action lawsuit with a number of former players, for whom it will cover millions of dollars worth of baseline medical exams, as well as treatment for those diagnosed with severe neurological conditions. An additional $10 million alone will go toward football safety education.
The NFL brand cannot afford bad publicity if it wants to make money. Moreover, players' health should come first, and that can only be done in collaboration with unsponsored medical teams, independent experts, and legislators who will create a protective legal framework to prevent any future cases of medical malpractice among pro footballers.
Derek Lotts likes to believe that he found his place on the internet, searching for and sharing ideas. He often reads and writes about NFL and tries to find fresh and new things to report about. Follow him on Twitter.
Published by Medicaldaily.com