Health Coverage is Least in Texas, Most in Massachusetts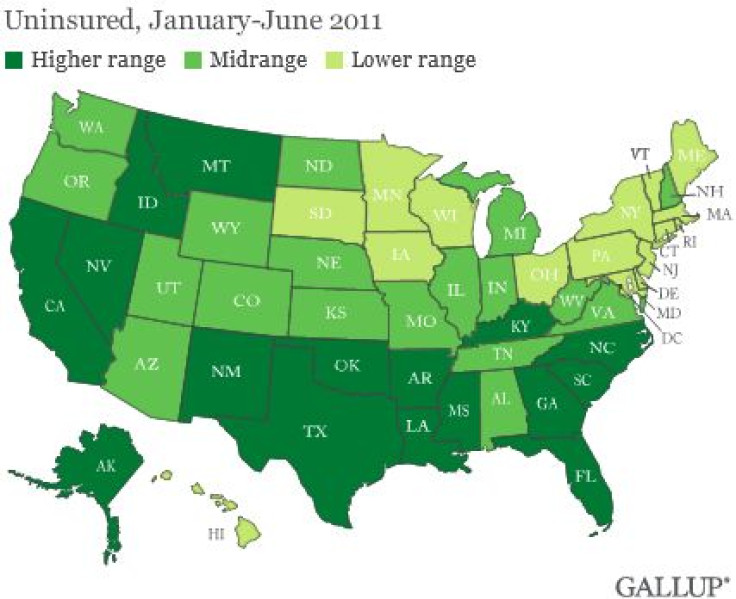 Texas has the lowest percentage of insured people in the United States with as many as 27.2 percent of its residents lacking of health coverage, according to a Gallup survey released today.
On the other extreme Massachusetts ranked as the state with most health coverage where only 5.3 percent of residents are uninsured, according to a survey based on 177,237 interviews for the Gallup-Healthways Well-Being Index .
"Uninsured rates across states in 2011 appear to be relatively stable so far compared with 2010,"said Gallup's report. "This could be seen as good news at a time when states are grappling with deep budget cuts and the implementation of new regulations and programs required under the Affordable Care Act."
The survey found that states in the South and West continue to have higher numbers of uninsured adults than do those in the Northeast. For example, Texas, California and Florida had uninsured rates higher than 20 percent while seven of the top ten states with highest health coverage were in the Northeast region.
The survey noted that Texas, California and Florida have disproportionately large Hispanic populations, the most likely uninsured group.
Top 10 Highest uninsured rates
State %Uninsured
Texas 27.2
Mississippi 24.5
Alaska 23.5
Florida 22.6
Oklahoma 22.5
California 21.9
Louisiana 21.4
Arkansas 21.0
North Carolina 20.8
Georgia 20.8
Top 10 Lowest uninsured rates
State %Uninsured
Massachusetts 5.3
Vermont 9.2
Minnesota 9.4
Connecticut 10.3
Hawaii 10.4
Pennsylvania 10.8
Wisconsin 10.9
Maryland 11.4
New Jersey 11.4
Delaware 12.3
Published by Medicaldaily.com