A Healthier McDonald's? Fast-Food Chain To Offer New Side Of Salad, Fruit, Or Vegetable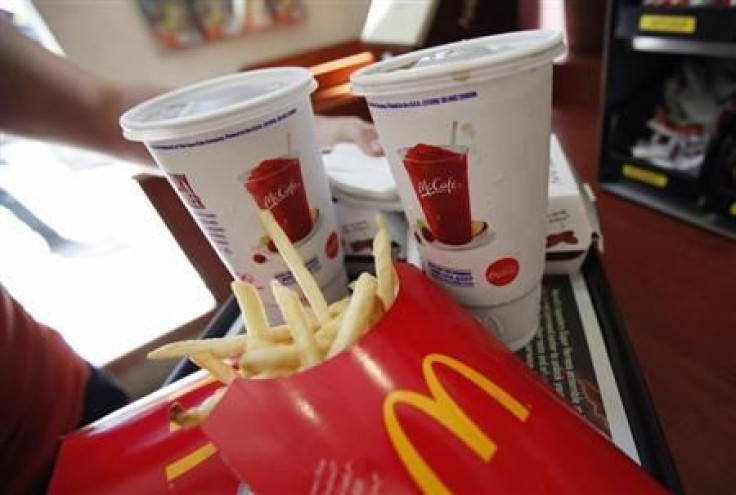 McDonald's will begin offering salad, fruit, or vegetables as a substitute for French fries, according to the company's CEO Don Thompson. The announcement was made during the 2013 Clinton Global Initiative meeting in New York City where Thompson said the move was part of the company's push for healthier menu options.
"What is it that customers will choose, and what will they eat?" Thompson told NBC News. "What we don't want to do is just put something on the menu and say, 'hey, we did it.' We really want consumption."
The world's largest fast-food chain also announced that it will be promoting milk, juice, and water as beverages — instead of soda — for Happy Meals. Although soda will still be offered as a choice for the restaurant's popular kids' menu, all marketing and advertisements will be geared toward healthier drink options.
Such changes will be featured on menus in 20 of McDonald's major markets around the world by 2020, Reuters reported. The Center for Science in the Public Interest (CSPI), a nonprofit advocacy group that was recently involved in a lawsuit with McDonald's over toys in Happy Meals, said the move was a step in the right direction, but more changes are needed to curb rising obesity statistics.
"Obviously, any 'innovation' that puts more fruit and vegetables on McDonald's menus is good news for children and adults," CSPI's Nutrition Policy Director, Margo G. Wootan, said in a statement. "Besides including salads in combo meals, McDonald's could make its meals less harmful by continuing to reduce sodium, adding more whole wheat into their buns, and phasing out their 30- and 21-ounce soda sizes for adults. The last thing a meal of a burger and fries needs is 19 teaspoons of sugar."
According to the World Health Organization, 200 million men and 300 million women around the world were considered obese as of 2008. Over 40 million children under the age of 5 were considered overweight in 2011. Obesity and overweight rank fifth among the world's leading causes of death, killing around 2.8 million adults each year.
Published by Medicaldaily.com