Healthy Fall Foods: 5 Food Staples To Keep You In Shape This Season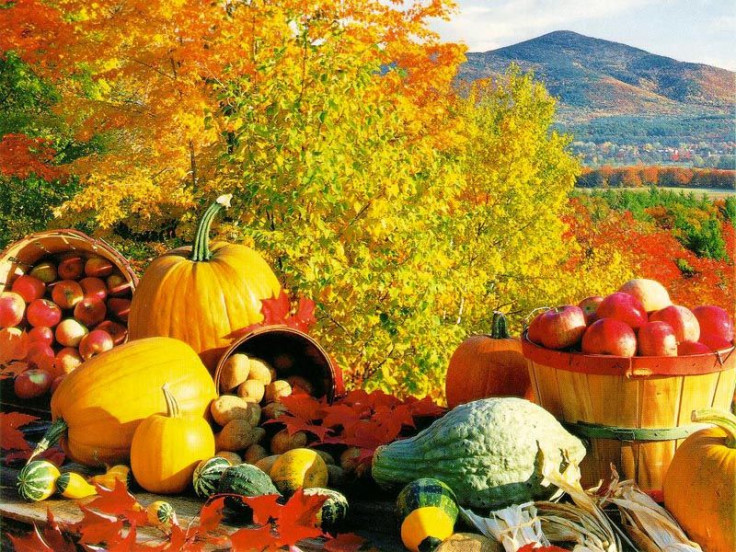 The crackling leaves under your feet as you walk, the sound of school buses and children, and the countdown to Thanksgiving can only mean one thing: fall is finally here. And with the cold weather comes an array of fall fruits and vegetables. Below is a list of some fall foods that you can enjoy in a wide variety of recipes. Not only are they delicious, but they're also versatile and likely to be reasonably priced now that they're in season!
1. Apples
They're not only fun to pick, candy, and eat, but also packed with vitamins and antioxidants. Each apple has approximately 4 grams of fiber, which is essential in maintaining a healthy digestive system. According to the Mayo Clinic, women and men age 50 or younger need an average of 25 grams and 38 grams respectively. Men and women over 51 years old need 30 grams and 21 grams respectively. Fiber is important for maintaining a healthy bowel, lowering cholesterol, and controlling blood sugar.
2. Kale
This sturdy, dark green vegetable is perfect for any season because of its versatility. Unlike iceberg lettuce, kale lasts longer and has more nutrients. Kale has been called a superfood because of the plethora of benefits that it provides. One cup of kale contains only 33 calories, and is full of vitamin A, vitamin C, and vitamin K. As a potent antioxidant, vitamin K can reduce your overall risk of developing cancer.
3. Pumpkin
The fall food staple, which can either be cooked sweet or savory, is the perfect fall addition to your collection. Half a cup of pumpkin contains only 15 calories and is high in vitamin C and beta-carotene, which is needed for maintaining a healthy immune system as well as good eye health and vision. Beta-carotene is also an antioxidant, which a cancer-fighting agent.
4. Corn
Corn is a versatile food that surprisingly enough is filled with many vitamins and minerals, including folic acid, niacin, and vitamin C. Folic acid is important in preventing heart disease. And according to studies, it helps to prevent the buildup of homocysteine, an amino acid. In high levels, homocysteine has been linked to higher rates of heart disease, but folic acid helps to break it down.
5. Butternut Squash
Like its cousin (the pumpkin), squash is also a very versatile fall favorite. It's low in fat and has many heart-healthy qualities. Butternut squash offers significant amounts of potassium, which is important for maintaining healthy bones. It also contains vitamin B6, which is important for a healthy functioning nervous and immune system.
So, go ahead and make these into your own creative recipes! Happy autumn!
Published by Medicaldaily.com