Healthy Meals For Kids: Children Aren't Eating Their Fruits And Veggies At School Despite Recent Legislation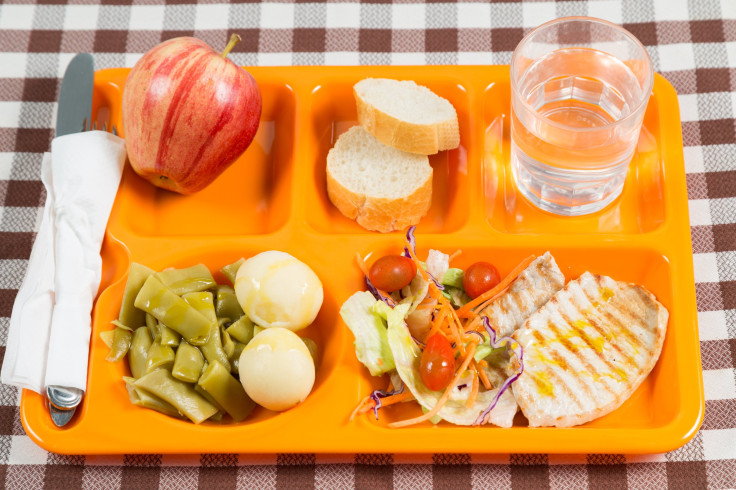 Getting kids to eat their fruits and veggies is by no means a new problem. Some parents refuse to let their child leave the table before they finish their meal. Some bribe them with dessert if they eat the green stuff on their plate.
Once these children left for school, though, they were largely on their own concerning how healthy they wanted their lunch to be. Most schools offered fruits and vegetables for students, but there was no one mandating that the kids eat, or even take them. The Healthy, Hunger-Free Kids Act of 2010, however, changed that. The controversial legislation not only requires schools to offer healthy fruit and vegetable options, but mandated requirements for sodium limits, calorie ranges, and specific allotted amounts for meats and grains.
Now, less than a month before Congress votes on whether to reauthorize the program, a new study confirms some disappointing — albeit, unsurprising — behaviors. Many students are taking the fruits and vegetables they're required to under the new program, only to dump them straight in the trash, consuming even fewer than they did before the law was put into effect.
The research, published online in Public Health Reports, uses digital imaging to capture students' lunch trays before they entered the lunch line and after they exited. The study is the first of its kind and also the first to compare fruit and vegetable consumption before and after the Healthy, Hunger-Free Kids Act of 2010 was passed.
The study found that while students now put more fruits and veggies on their trays, they consumed fewer of them and increased waste by about 35 percent.
Dr. Sarah Amin, a researcher in Nutrition and Food Sciences at the University of Vermont and lead author of the study, said the main question they sought to explore was this: Does requiring a child to choose a fruit or vegetable actually correspond with consumption?
"The answer was clearly no," she said. "It was heartbreaking to see so many students toss fruits like apples into the trash right after exiting the lunch line."
The study provided the team with much more accurate results than past studies attempting to determine student food consumption due to the methodology. Instead of relying on the weight of food waste, there was photographic evidence of what kids were doing to their trays as they reached the cashier and passed the food disposal area.
"The beauty of this method is that you have the data to store and code to indicate what was selected, what was consumed, and what was wasted as opposed to weighed plate waste, where everything needs to be done on site," said Amin, who hopes to develop an online training tutorial that could be used by schools across the country to measure consumption and waste.
Increasing Fruit And Vegetable Consumption — Other Approaches
So we now know that just forcing a student to pick up a fruit isn't enough to make them actually eat it. How, then, can we increase the consumption of fresh, healthier foods among kids? In an earlier study, Amin and her colleagues looked at the types of fruit and vegetable that kids chose at school prior to the new guideline. They found that children preferred more processed fruits and vegetables (eg: tomato paste on pizza, 100 percent fruit juice) rather than whole varieties. Besides making sure these options are available, Amin and her team suggested a few additional strategies for increasing consumption of fruits and veggies at school lunch.
Slicing and cutting up produce rather than serving them whole was a good option, along with mixing them into other foods or serving the slices with dip, according to the paper. They also suggested that putting public health programs that encourage fruit and vegetable consumption in the home in place could cause results that carry over to school behavior.
Amin also believes that once schools are fully acclimated to the guidelines, consumption will be less problematic and increase. She cites children who entered kindergarten under the guidelines in 2012 as an example — they will know no other way.
"An important message is that guidelines need to be supplemented with other strategies to enrich fruit and vegetable consumption. We can't give up hope yet."
Source: Amin S, et al. School lunch study: Visual Proof Kids Are Tossing Mandated Fruits And Veggies In Trash. Public Health Reports. 2015.
Published by Medicaldaily.com