Healthy People Could Die From Vaping — Here's Why
The U.S. Centers for Disease Control and Prevention (CDC) on Wednesday, issued the alarming report that vaping-related lung disease cases are now being reported every day across the United States.
This extremely troubling development highlights as no other can the immense danger young and healthy people face from vaping e-cigarettes. Seven months after the first case of this illness was recorded in March, there is now a name for this deadly illness.
CDC calls it EVALI, an acronym for "e-cigarette, or vaping, product use associated lung injury."
This still mysterious vaping-related lung disease -- whose cause or causes haven't been accurately identified -- has sickened nearly 1,300 people and killed at least 26 as of last week, as per CDC.
This painful toll is expected to get "considerably" worse when CDC releases its updated case report later this week, said CDC Principal Deputy Director Anne Schuchat to a House Appropriations subcommittee.
"This is extremely complicated and difficult. It's fatal or potentially fatal with half of the cases requiring intensive care," she said.
What worries CDC and the medical community now is the onset of the flu season, which normally begins in October and can sometimes last until May.
EVALI looks and sounds like pneumonia, which could confuse doctors and complicate diagnoses. It also makes patients more vulnerable to other diseases, she pointed out. CDC last week, issued new guidance to doctors, encouraging them to assess patients for both EVALI and typical respiratory illnesses like influenza.
It said people that contract EVALI stand to become more vulnerable to influenza and other respiratory illnesses common in the winter months. Common symptoms of EVALI are shortness of breath, cough, chest pain. The disease also manifests in nausea, vomiting, fever and weight loss.
Dr. Michael Siegel, a professor in the Department of Community Health Sciences at the Boston University School of Public Health, believes there are two possibilities for what's causing the severe lung damage in EVALI.
The first is lung damage caused by inhaling viscous oils. Dr. Siegel said these oils are sometimes added as thickening agents, especially to black market THC-vaping cartridges.
One of these oils is called vitamin E acetate, which researchers found in most of the product samples from patients recently tested by federal health officials. Of the 225 THC-containing products tested, 47 percent contained vitamin E acetate, according to the U.S. Food and Drug Administration (FDA).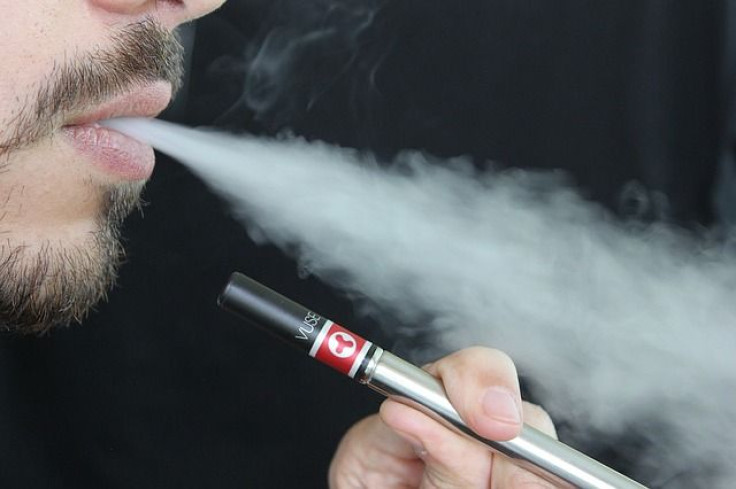 Dr. Siegel said vitamin E acetate coats the lungs, which aren't "designed to handle oil." The air sacs in the lungs are smothered in oil and can't exchange oxygen. The lungs try to eject the oil, but become severely inflamed in the process. The end-result is it becomes even more difficult to exchange oxygen, meaning breathing becomes severely impaired.
He said the lungs can't work properly. Consequently, the patient might experience respiratory failure, requiring mechanical ventilation. That's likely what is causing the illnesses, he pointed out.
The second possibility is that it's a chemical contaminant in vaping liquid that's toxic to the lungs. Dr. Siegel said this contaminant causes direct damage to the lungs and also triggers a severe inflammatory response.
The presence of this unknown contaminant explains EVALI in patients that didn't test positive for vitamin E acetate. Under the microscope, the lung tissues of these patients showed signs of injury similar to "chemical pneumonitis," or inflammation caused by breathing in chemical fumes like the deadly mustard gas used in World War I.
This contaminant is most likely the cause of EVALI in these patients, the authors wrote in a study published Oct. 2 in the New England Journal of Medicine (NEJM).
Published by Medicaldaily.com