Heart Failure Death Risk In Men Upped By 28% With Processed Red Meat Diet Over 75 Grams A Day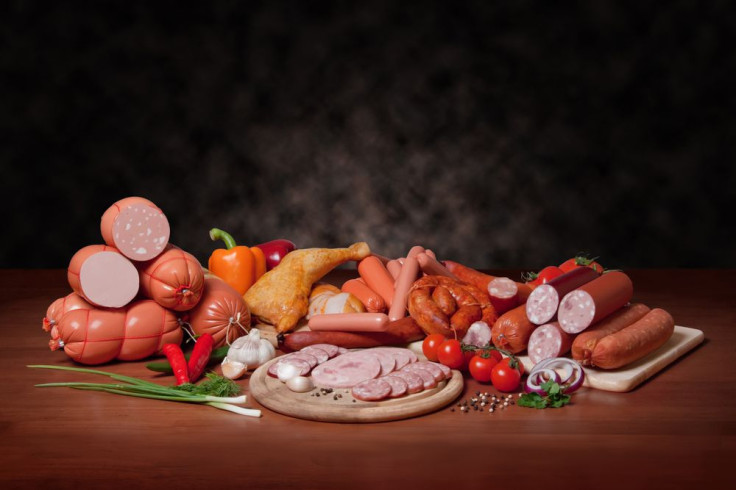 For all the meat-eaters out there, in place of processed meat, health care professionals recommend lean meats, skinned poultry, and fish high in omega-3 fatty acids, including salmon, trout, and herring. A study published in the American Heart Association journal Circulation: Heart Failure has revealed that men who consume even moderate amounts of processed red meat, such as cold cuts, sausage, bacon, and hot dogs, stand a higher risk of being diagnosed and dying as a result of heart failure.
"Processed red meat commonly contains sodium, nitrates, phosphates and other food additives, and smoked and grilled meats also contain polycyclic aromatic hydrocarbons, all of which may contribute to the increased heart failure risk," Dr. Alicja Wolk, professor in the Division of Nutritional Epidemiology at the Institute of Environmental Medicine, Karolinska Institutet in Stockholm, Sweden, said in a statement. "Unprocessed meat is free from food additives and usually has a lower amount of sodium."
Researchers conducting the Cohort of Swedish Men study recruited 37,035 men between the ages of 45 and 79 with no history of heart failure, ischemic heart disease, or cancer. This study is touted as the first to investigate the effects of processed red meat separately from unprocessed red meat. Men participating in the study were asked to complete a 96-item questionnaire regarding their diet and certain lifestyle factors, and were followed from 1998 right up until their heart failure diagnosis, death, or the end of the study in 2010. Questions about processed meat focused on sausages, cold cuts, blood pudding/sausages, and liver pate, while unprocessed meat focused on covered pork and beef/veal, including hamburgers and ground-minced meat.
Findings after 12 years of follow up revealed that 2,891 participants had been diagnosed with heart failure, 266 of which died as a result of their condition. After adjusting for certain lifestyle factors such as smoking and high cholesterol, the research team found that men who ate over 75 grams of processed red meat are at a 28 percent higher risk of heart failure compared to men who ate less than 25 grams per day. They were also two time more likely to die as a result of their heart failure diagnosis. Every 50 grams of processed meat added to a man's diet increased their risk of being diagnosed with heart failure by eight percent and dying as a result of heart failure by 38 percent.
"To reduce your risk of heart failure and other cardiovascular diseases, we suggest avoiding processed red meat in your diet, and limiting the amount of unprocessed red meat to one to two servings per week or less," said Dr. Joanna Kaluza, assistant professor in the Department of Human Nutrition at Warsaw University of Life Sciences in Poland. "Instead, eat a diet rich in fruit, vegetables, whole grain products, nuts and increase your servings of fish."
According to the American Heart Association, of the six million Americans suffering from heart failure around half die within five years of their diagnosis. Between heath care expenditures and loss of productivity, the annual cost of heart failure in America can reach upward of $34 billion. Although a current study testing the effects of processed meat consumption on heart health in women has not concluded, the research expects similar results to the Cohort of Swedish Men study.
Source:
Published by Medicaldaily.com