'Heel No Pain', Foot-Numbing Spray, Eliminates High Heel Aches: Lidocaine HCI Deadens Foot Pain For Up To 3 Hours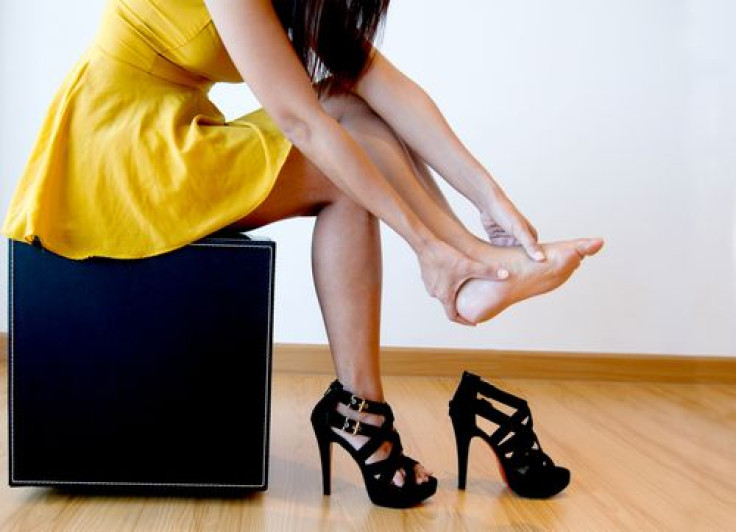 Ladies may now be able to comfortably wear their highest high heels without experiencing the often dreaded and much anticipated foot pain. The newest option for dealing with the discomfort may even allow women to ditch the pair of ballet flats in their pocketbooks. It's called Heel No Pain/Style, an FDA-approved foot numbing spray that claims to alleviate high heel aches for up to three hours.
Dr. Randal Haworth, Beverly Hills plastic surgeon and developer of the spray, may have revolutionized how women wear high heels.
"The pain simply dissipates and lasts two to three hours," she told the Daily Mail. "It's certainly enough to get you through a red carpet event."
The idea for Heel No Pain/Style derived from Dr. Haworth's clients who came for a consultation to relieve foot pain. From pads being placed on the balls of their feet to painful injection, Haworth was motivated to come up with a simple solution to high heel foot problems many women face. She was not only inspired by her clients but also by her personal experiences.
"I suffer my own fair share of foot pain," Haworth said. "I'm a fashionista at heart, and I like stylish shoes."
Wearing heels over time can shorten the muscles in the calves and in the person's back, leading to pain and muscle spasms. Women who frequently wear high heels often suffer from a shortening of the Achilles tendon because as the heel is pointed upwards, it tightens up, says the American Osteopathic Association. Therefore, stretching the heel or switching to flats can be very painful for the wearer.
The stiletto-friendly spray by Biochemistry is the only foot product to feature lidocaine HCI, a sterile aqueous product that contains a local anesthetic agent typically administered by dentists and doctors. Heel No Pain/Style is said to contain the strongest concentrations of the agent combined with other ingredients in order to enhance its effect to reduce severe high heel-related pains.
With just a few quick sprays on foot aches, pains, burns, or itches, the topical liniment directly numbs the nerves that send pain signals to the brain. Heel No Pain/Style is considered to be a "painkiller with heat treatment" because it is able to penetrate while providing protective pain reflexes as the aches dissipate.
The product has gotten the approval of Sophie Potts, who manages events at Neuehouse in New York. Potts told the Daily Mail, Heel No Pain/Style, has "completely changed her day." Although high heel discomfort doesn't instantly disappear, the pain often felt when taking the heels off after a long day is usually gone after a few hours.
The spray is not only for fashion-conscious high heel wearers, Heel No Pain/Active is available for athletes who have real pain under their arch or experience tendinitis, sprains, and pulls. The unique analgesic spray has been developed for athletes to specifically target foot pain to get temporarily sore feet "back into the game," according to Heel No Pain's website.
With the combination of lidocaine HCI and tea tree oil to help treat and prevent athlete's foot, and peppermint oil to cool the burn, this version for athletes can help keep their endurance.
Heel No Pain formula takes approximately 10 to 15 minutes to take effect and penetrate the skin, with a 70 percent success rate of people who have tried the product. Haworth suggests a limit of four applications per 24 hours.
Another spray that hopes to compete that claims to prevent high heel-related discomfort is the new Still Standing spray. The natural patent-pending formula consists of menthol and certified organic eco-distilled Arnica, Aloe, and Ilex, according to Beauty World News. The product's herbal ingredients are viewed as natural anti-inflammatories and pain relievers and also contain vitamin E and tea tree oil. The large size eco-friendly, non-aerosol, continuous spray may require touch-ups every two to four hours depending on the wearer.
Consumers are made aware that the spray will not tackle all shoe-caused pain and problems and will not help or prevent blisters.
Heel No Pain and Still Standing are only meant to provide temporary relief of discomfort of the feet. Wearers are advised to visit a physician or health care professional if they persistently experience chronic pain that lasts more than three days without subsiding.
To learn about the dangers of high heels, click here.
Published by Medicaldaily.com