Heide Pfüetzner's Art: Paralyzed Artist Paints With Mind-Controlled Computer, Debuts Digital Gallery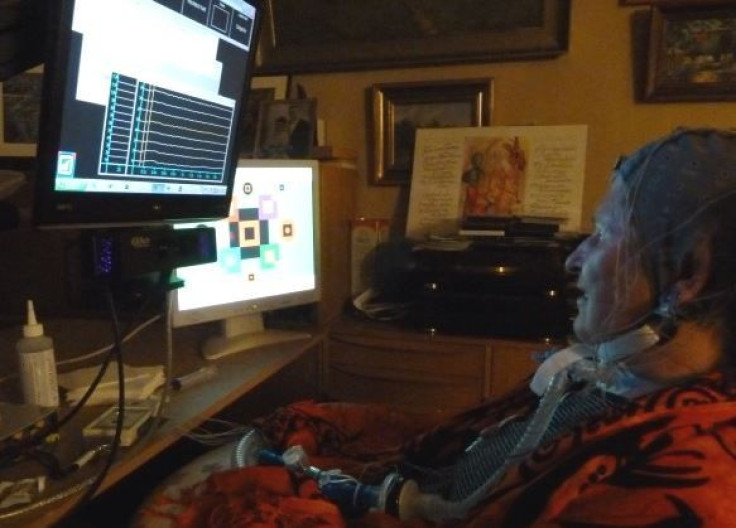 Unable to move her arms, legs, hands, or even fingers, Heide Pfüetzner has painted a gallery's worth with just her mind. Her first digital gallery went on display Friday. The exhibit entitled "Brian on Fire" opened at the Easdale Island Hall on a small island off of the west coast of Scotland, showcasing the paralyzed artist's digital paintings made by a mind-controlled computer.
Pfüetzner suffers from amyotrophic lateral sclerosis (ALS), also known as Lou Gehrig's disease, a progressive neurodegenerative disease that affects the nerve cells in the brain and spinal cord. On average, a person diagnosed with ALS has two to five years to live until the nerve cells turn off all communication between the brain, spine, and the rest of the body.
Since her diagnosis with ALS in 2007, Pfüetzner has only had her eyes to communicate with the outside world. She breathes with the aid of a ventilation machine, and although she is paralyzed with the inability to move her ligaments, she sits in her specially designed wheelchair and creates art.
Six years ago, Pfüetzner called her ALS diagnosis a "personal catastrophe" as she learned about the hardships she was going to face for the rest of her time spent alive. But, instead of waiting for the inevitable, Pfüetzner decided to try the Intendix Painting software produced by the biomedical engineering firm Gtec. The system is also used in World of Warcraft — one the most popular computer games in the world — allowing its users to play hands-free.
"For the first time, this project gives me the opportunity to show the world that the ALS has not been the end of my life," Pfüetzner said on the Startnext crowdfunding page, where she has raised more than $6,500 for her exhibit's debut, which will run through July 25.
The money went toward the printing, framing, and curating of her art, as well as transporting her, her nurses, and the necessary medical equipment used to keep her alive to the exhibit.
Pfüetzner's artistic process is unique and intricate. She sits in front of two computer screens with an electrode-laden electroencephalogram (EEG) that allow hers to control the program's digital tool brushes, and move them along the screen like a canvas. Each tool flashes at different times and rates. Pfüetzner selects the tool she wants by counting the flashes in her mind, which in turn spikes brain activity. The computer then compares the timing of the brain waves to the timing of the desired flashing tool with a 98-percent accuracy rate, ultimately providing Pfüetzner with a virtual hand within her mind.
Although ALS was first distinctively described in 1869 by French neurologist, Jean-Martin Charcot, national and international attention was first brought to the forefront when Hall of Fame baseball player Lou Gehrig suddenly retired in 1939. At first, he thought old age was ending his career, but after he began having trouble tying his shoelaces, Gehrig checked himself into the Mayo Clinic and was diagnosed with ALS that same year. There is still no one test that can definitively diagnose ALS, although doctors look at degenerative upper and lower motor neurons and signs of beginning atrophy stages, also referred to as "limb onset" ALS, as a strong suggestion.
Pfüetzner, a formal English teacher from Leipzig, Germany, was never fond of technology prior to her diagnosis. But now, with technology as her only means of communication, she lives through her days still able to engage her mind and brain.
"BCI is a pioneer-making technology which allows me to create art and therefore, reconnect to my old life," Pfüetzner said.
Each year, an estimated 5,000 people are diagnosed with ALS in the United States alone, and as many as 20,000 to 30,000 people are currently living with the disease. Of those diagnosed, about 10 percent with the devastating diagnosis can survive 10 years or more. Researchers are still unclear on the cause; in fact, 90 to 95 percent of all ALS cases occur at random with no clear associated risk factors.
Published by Medicaldaily.com