Herbal Supplements At Nation's Top Retailers Found To Contain Anything But Purported Herbs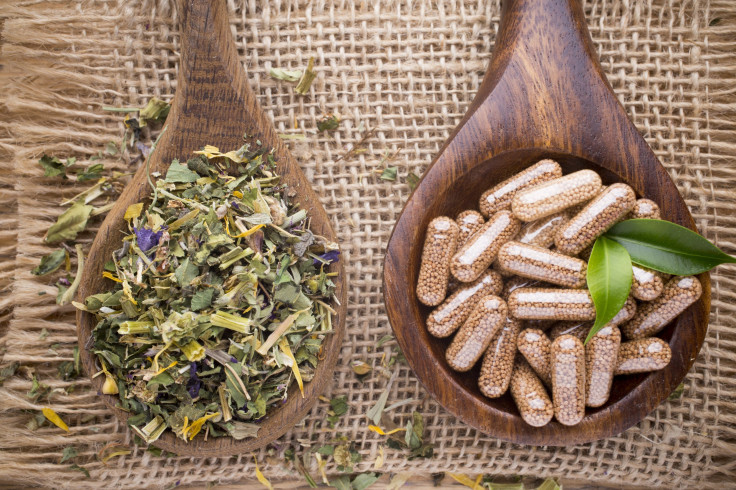 So many of us have bought store-brand herbal supplements under the assumption they're just as safe as more expensive brand names. If you're one of those people, then here's some surprising information, brought to you by the New York State attorney general's office: Some of those supplements contain absolutely none of the herbs they say they do, and some might even be a danger to your health.
Those were the findings of a series of tests on 24 products branded under the names of four of the nation's biggest retailers: GNC, Target, Walgreens, and Walmart. The attorney general's office sent all retailers cease-and-desist letters demanding the stores take the products off their shelves after results showed all but five products contained pills made of fillers like powdered rice, asparagus, and wild carrots, The New York Times reported. Some even included powdered legumes, the plant family that includes peanuts and soy, both of which can cause allergic reactions.
The herbal supplements in question were Echinacea, garlic, ginko biloba, ginseng, saw palmetto, St. John's wort, and valerian root, which were sold under GNC's brand "Herbal Plus," Walgreen's "Finest Nutrition," Walmart's "Spring Valley," and Target's "Up & Up." Using a technique called DNA barcoding, a type of genetic fingerprinting, the attorney general's office found Walgreen's ginseng pills only contained powdered garlic and rice, while Walmart's gingko biloba contained powdered radish, houseplants, and wheat — even worse, the label said wheat- and gluten-free.
In all, none of Walmart's six products tested positive for DNA matching the herbs they were supposed to contain. Five of GNC and Walgreens' six products tested contained substances that were "either unrecognizable or a substance other than what they claimed to be," and three of Target's six products tested negative.
"If this data is accurate, then it is an unbelievably devastating indictment of the industry," Dr. Pieter Cohen, an assistant professor at Harvard Medical School and expert on supplement safety, told The Times. "We're talking about products at mainstream retailers… that are expected to be the absolute highest quality." Cohen mentioned the supplements may not have tested positive for DNA matching the specific herbs because they got lost in the manufacturing process; however, that doesn't address the issue of all the other unlisted ingredients.
The findings highlight a problem that has seemed to pervade the herbal supplement industry for years. Since 1994, the Food and Drug Administration (FDA) has regulated dietary supplements almost entirely on an honor system, in which the companies manufacturing the products are responsible for providing safety information; they don't need FDA approval before being marketed.
The policy has backfired several times, however. Last year, a study found many manufacturers had ignored an FDA ban on 27 pharmaceutical adulterants, such as sibutramine and sildenafil, that put people at risk of suicidal thoughts and heart issues. Another Canadian study from 2013 used DNA barcoding to test 44 supplements from 12 companies, and found 60 percent of them had ingredients not listed on the labels, while 32 percent of them had substituted ingredients and one-fifth used fillers. Most recently, the FDA ordered dietary supplement manufacturer Health One Pharmaceuticals to destroy all its products and stop conducting business after it went three years without correcting violations.
In statements to The Times, both GNC and Walgreens said they would cooperate with the attorney general's requests. Target didn't respond to The Times requests for comment.
Published by Medicaldaily.com