Herbalife Share Value Plummets On News Of FTC Investigation Inspired By Activist Investor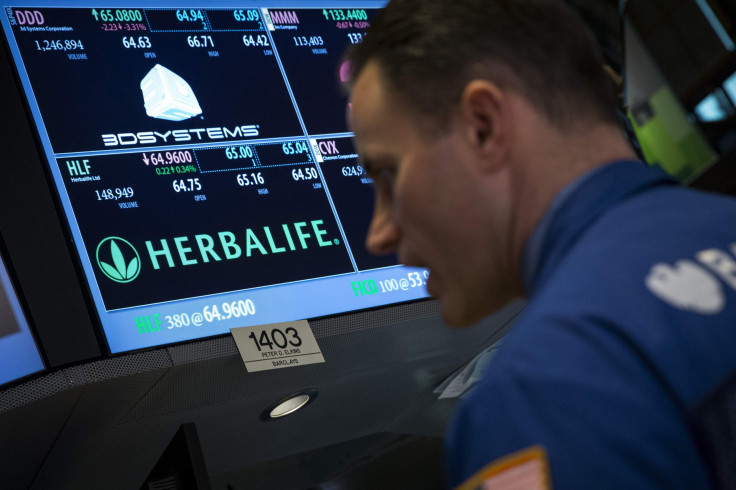 The Federal Trade Commission (FTC) began an investigation of nutrition company Herbalife on Wednesday in response to criticisms by Bill Ackman, a Pershing Square hedge fund investor who has shorted the company's stock — bet the share price will come down — based on perceived flaws in their business plan. News of the FTC move impacted Herbalife shares, which shrunk in value by nearly 15 percent during the day's trading. Ackman's major claim is that the company is an abusive pyramid scheme, which the company has repeatedly denied. Founded in 1980, the company sells its dietary supplement, weight loss, and personal care products in more than 90 countries to and through a network of independent sellers. The company reported net sales of $4.8 billion in 2013.
In a statement to the press, Herbalife said that it welcomes the inquiry and will cooperate fully with the FTC: "We are confident that Herbalife is in compliance with all applicable laws and regulations."
Some believe that Ackman has pushed the boundaries on so-called activist investing, in which major market players take big stakes in publicly-traded companies and then shake things up with merger proposals, recapitalization plans, and other schemes in an attempt to drive share values in whichever direction they choose. In this case, Ackman placed a staggering $1 billion short-selling bet against Herbalife in 2012 — if the price comes down, he profits — and since then he has spent millions waging a public campaign against the company. His primary tactics have been to enlist the help of community organizers while also lobbying Congress to push regulators to investigate his claims that Herbalife makes most of its money by recruiting new salespeople rather than on the products they sell.
The company is not alone in its battle for life. Carl Icahn, a veteran activist investor and billionaire, stands with the company. Over the last year, Icahn has accrued a 13 percent stake in Herbalife, which he believes is under, not overvalued.
Insisting Ackman's accusations have no merit, the company stated on March 10: "For the past 15 months, Bill Ackman has executed an unfounded, relentless and fraudulent public attack on Herbalife's business model, blasting Herbalife to any media outlet or hedge fund audience willing to listen." The company believes Ackman's "unprecedented campaign to destroy Herbalife" is simply a "self-serving attempt to manipulate the market by buying his way into an investigation to cover his own reckless $1 billion dollar bet."
Most recently, Ackman has criticized Herbalife (China), which, according to the company, has implemented a unique business model that is in compliance with Chinese direct-selling and anti-pyramid regulations. In China, its fasting growing market, the company has, to date, "almost 150,000 Preferred Customers, who purchase our products for self-consumption, not for distribution," with nearly 3,000 additional Nutrition Clubs in 25 provinces and regional municipalities. Reuters reported. Ackman stating he has evidence the company is breaking direct-selling laws in China; he also believes Herbalife is disguising its sales to distributors as hourly consulting fees.
Published by Medicaldaily.com