Is The High Price Of Medical School Going To Reduce Access To Good Doctors?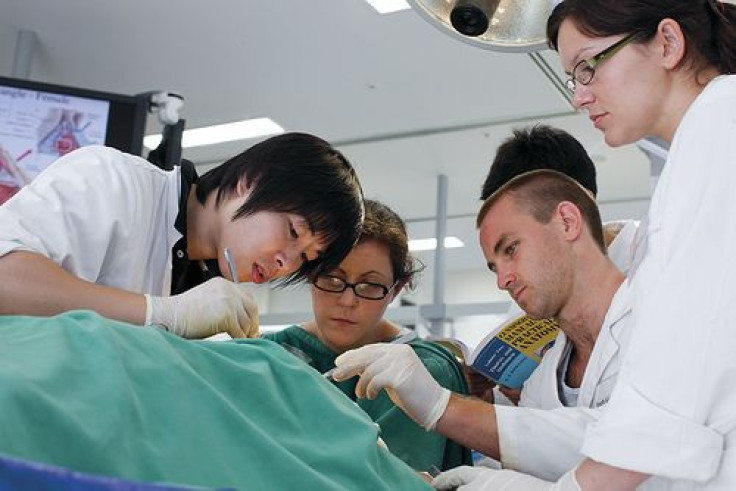 We are all too familiar with economic bubbles at this point. The 2007 U.S. housing bubble gave us a recession that is still fresh in our minds and was only second to the Great Depression while the dot-com bubble of 2000 left many ruined tech-savvy investors in its wake.
And now we are in the era of cutting health care costs, and doctors are wondering whether medical education has become a bubble market that will one day impact access to good doctors. In a recent Perspective piece in the New England Journal of Medicine, lead author David A. Asch, professor of Medicine and director of the Center for Health Care Innovation at Penn Medicine, and colleagues voiced concern that "the high costs of medical education are sustainable only if we keep paying doctors a lot of money, and there are strong signs that we can't or won't."
In a 2010 commentary in Academic Medicine, Eli Adashi of Brown University also warned of the "unsustainable" cost of undergraduate medical education. The author pointed out that health care reform neglects how the recent increase in costs of medical training is twice the rate of inflation and predicted "a leveling off of the cost of medical education is unlikely to be realized any time soon."
Adashi noted that median student debt burden has gone up by more than 50 percent from 1998 to 2008. "All of this portends a negative impact on the diversity of the national medical student body and the ability of medical schools to meet workforce needs, including those necessary to the effective provision of primary care."
Physician payments currently occupy around 20 percent of health care costs while cost-cutting is being aimed at other expenses, such as hospital payments. But the problem lies in the fact that physicians and dentists haven't earned a salary that is significantly higher than what they were making in the early 2000s, Asch observed. This stagnation can repel prospective students who fear encountering a larger debt-to-income ratio in the future.
"The general lesson is that if we want to keep health care costs down and still have access to well-qualified physicians we also need to keep the cost of creating those physicians down by changing the way that physicians are trained," Asch and colleagues wrote.
They also pointed out that the extended time that is dedicated to training a doctor as they progress from college through licensure and credentialing makes "physician-production costs" high.
"Although it seems unlikely that we're in a bubble market for medical education, we may already be in one for veterinary medicine. That bubble will burst when potential students recognize that the costs of training aren't matched by later returns," they wrote. "Then the optometry bubble may burst, followed by the pharmacy and dentistry bubbles. At the extreme, we will march down the debt-to-income-ratio ladder, through psychiatrists to cardiologists to orthopedists . . . until no one is left but the MBAs."
Adashi proposed easing the extreme indebtedness of doctors-to-be by increasing financial assistance, modifying loan programs, and reducing the time and cost of attendance by shortening courses.
"All of these measures could and should be addressed as integral components of health care reform if we are to address the shortage of primary care physicians and other workforce needs," Adashi concluded.
Published by Medicaldaily.com