Home Care Visits For The Elderly Don't Extend Their Lives Or Give Them Independence, But Are They Happier?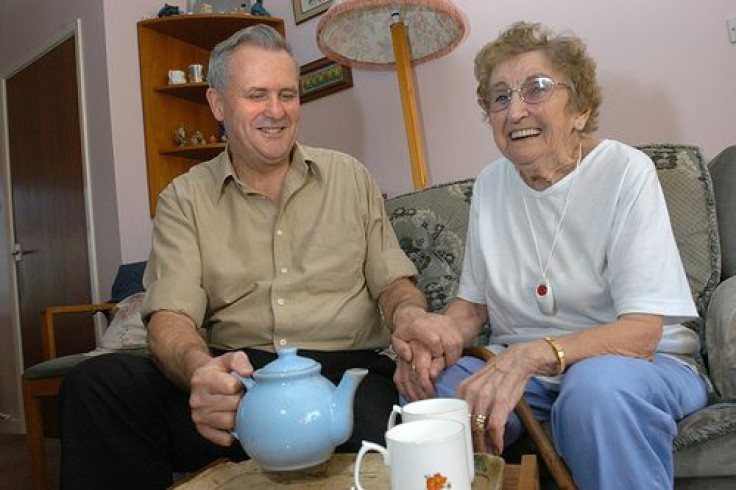 Despite the overwhelming assumption that personal visits from health care workers make for a healthier elderly population, a new review of the data suggests there is no evidence to support home care visits offer any benefits.
The study, conducted by researchers from the University College London, is the largest ever to examine the effects of home care visits — the daily house calls made by health or social care professionals to ensure people take their medicine, help them prepare food, walk with them, and generally try to keep them safe. The research spans the last 20 years, including 29,000 people 65 and over, and looked at mortality rates, injuries, falls, and overall quality of life.
"Our study suggests that elderly people with home care visits don't live any longer than elderly people without this form of support," said Professor Paul Montgomery, from the University of Oxford, in a statement. Other indicators such as hospitalization and institutionalization rates also uphold the empty results. However, Montgomery concedes unreliable data plays a role in making the total picture a bit foggy. It wasn't always clear, for instance, why a person was receiving care or how many visits they received.
"Any further research setting out to investigate the value of home visits would need to be conducted on a very large scale," explained lead author, Dr. Evan Mayo-Wilson, who added that justifying this research would be difficult, given the huge time commitment and costs. As of now, the researchers argue no evidence exists to support home care visits as beneficial.
Not Just About Extending Life
When independent people start needing home care visits, it's because their normal abilities no longer serve them well enough, be they physical or mental. Seniors on the brink of Alzheimer's may need the occasional nudge to get them in the right direction. Meanwhile, people with severe physical handicaps require a wide range of help. This care is sometimes meant to keep people alive: such is obviously the case when part of a health care worker's job is sticking to a pill schedule. But what about the most extreme case, say, when a person is terminal?
Palliative care answers that question. It's become essential to the health care industry in recent years, particularly as science forges new treatment methods in its quest to cure the world's diseases. People who aren't going to make it, but still have time left on the clock, need comfort more than anything. So hospitals field a comprehensive system of people (assembled as their own "palliative care team" in large enough hospitals) whose sole duty is making sure incurable patients go in peace.
A 2010 study published in the New England Journal of Medicine showed that palliative care for terminal lung cancer patients not only shot up their quality of life, but lengthened their lives, too. They were more likely to be happier and less depressed, as measured on scales for pain, nausea, mobility, and worry, among others. And rather than begin care one week before patients' expected expiration date, the team began it immediately after doctors found the cancer.
"We thought it made sense to start them at the time of diagnosis," oncologist and lead author of the paper, Dr. Jennifer S. Temel, told The New York Times. "And we were thrilled to see such a huge impact. It shows that palliative care and cancer care aren't mutually exclusive."
Home care visits aren't always palliative in nature, and palliative care often takes place in a hospital setting. But the breadth of assistance is uncanny. A person whose live-in health care worker prepares food, bathes the person, and administers any necessary medication is essentially performing all the more technical roles of a palliative care team, just on a smaller scale.
Admittedly, the present research team knows that. Their data may just be holding them back. "We are not saying that those people currently getting home care visits should have this service withdrawn," Sean Grant, from the Centre for Evidence-Based Intervention at Oxford, said in the statement. "It is possible that some programs may provide some benefit. In the light of this review, however, policy-makers, professionals and families should carefully consider the alternatives when making decisions about effective means of support for the elderly in the community."
Source: Mayo-Wilson E, Grant S, Burton J, et al. Preventive Home Visits for Mortality, Morbidity, and Institutionalization in Older Adults: A Systematic Review and Meta-Analysis. PLoS ONE. 2014.
Published by Medicaldaily.com