Home-Cooked Meals Often Deliver Less Calories, Sugar, And Fat Than Meals Out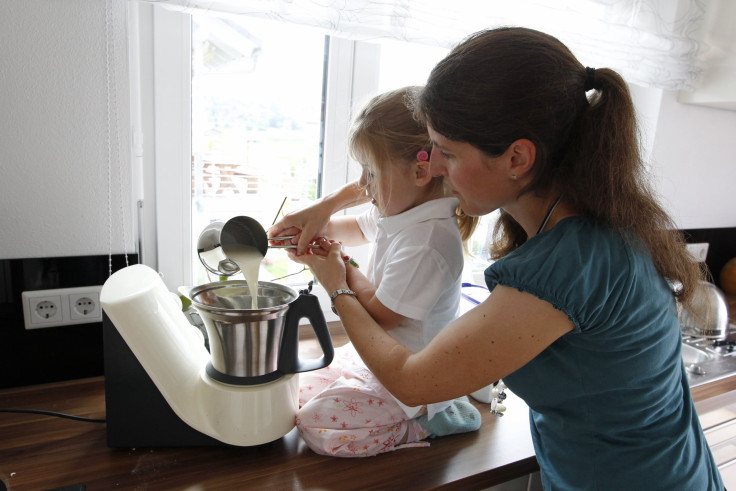 How many times does she have to say it? Your mother is always right, so you would be a fool (a fool!) to doubt her, especially when it comes to food. Home cooking, a new study finds, may be the surest path to your own best health. Researchers at Johns Hopkins University discovered those who more frequently cook dinner at home consume a healthier and lower calorie diet than those who eat out more often. See? Mom. Never. Lies.
Or, just sometimes.
Getting Started
So how do you begin if by nature you're either not much of a cook or not someone who likes the kitchen very much? Let's start with the easiest (if the most inane-sounding) suggestion for jumpstarting a new lifestyle: watch the Food Network or public TV food shows. Could anything be simpler? The range of programs, and, more importantly, the vast array of different cooks will prove to you once and for all that cooking is a skill anyone, even children, can learn, all while being a fun activity most anyone can enjoy (and absolutely everyone appreciates). Meanwhile, by watching real cooks on TV — whether they are competing against each other or instructing a live audience — you'll be picking up tricks of the trade while also discovering new foods and recipes.
Another easy recommendation: Any time you eat something you like, whether that be in a restaurant, at your work cafeteria, or in a sports stadium, go home and look up the recipe online. In fact, search for 10 recipes online. What you will quickly learn is that there are, generally, endless variations on the same theme, complete with ingredient shortcuts, time-savers, and in most cases, money-savers. Home cooking wasn't invented yesterday, which safely brings us back to the current study.
To examine eating patterns throughout the United States, Dr. Julia A. Wolfson, a fellow at the Johns Hopkins Center for a Livable Future, and her co-researchers looked over the results of the 2007–2010 National Health and Nutrition Examination Survey, which includes interviews of nearly 10,000 adults over the age of 20. Specifically, the team analyzed 24-hour dietary recall and interview data, which included measures of total kilojoules (another term for calories), grams of fat, sugar, and carbohydrates per day. The information they scrutinized also provided the number of ready-to-eat meals, frozen foods, and pizza consumed by each participant during an average month. Finally, the researchers compared frequency of cooking dinner at home with dietary outcomes, and weight-loss intentions.
What did the researchers discover? Eight percent of adults live in a household where someone cooks dinner at home just zero to one time per week. Compared to these "low home cookers," people who cooked their own dinner six or seven days of the week — just under half (48 percent) of all participants — had lower daily consumption rates of calories, fat, and sugar. Interestingly, the results also indicated those people who frequently cooked at home consumed less calories on the rare occasions when they did eat out.
The study brought to light one other fascinating fact. Generally, people who were trying to lose weight, whether or not they cooked for themselves, ate less overall calories than those unconcerned about weight loss. Apparently, good intentions change behavior in positive ways and do not pave the road to hell, as Mom may have told you. And, while you're gloating, why not give her a call?
Source: Wolfson JA, Bleich SN. Is cooking at home associated with better diet quality or weight-loss intention? Public Health Nutrition. 2014.
Published by Medicaldaily.com