Homeless People Of San Francisco Get Mobile Showers Thanks To Lava Mae's Mobile Public Restrooms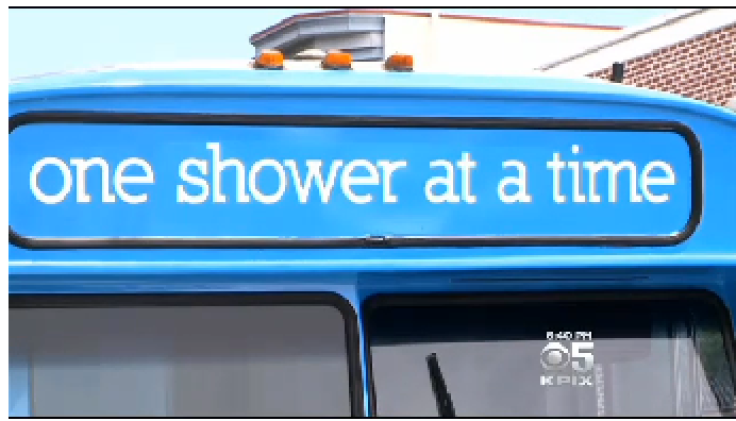 The United Nations and World Health Organization define access to sanitation and water as a basic human right. Why is it then that in the United States of America the 610,042 individuals currently experiencing homelessness have limited, if no means, to cleaning themselves? In San Francisco, one woman found this fact intolerable and decided to do what she could to ensure that those living on the streets have a chance to get free showers.
San Francisco alone has around 3,500 homeless people living on the streets, but only seven public wash rooms for them to clean up. Rather than thinking about this unfortunate fact momentarily before moving on with her day, Doniece Sandoval founded Lava Mae, Jezebel reported. The company converts old Muni buses into showers and toilets for the homeless. "Each of our buses has two complete bathrooms with a shower, sink, toilet and changing room. It's been in idea stage for so long, to actually see the result is unbelievable," Sandoval told CBS San Francisco.
The mobile bathroom run off the city's fire hydrants, and CBS SF reported that the company has worked out a deal with San Francisco, allowing them to use and pay for the water. The buses give the homeless so much more than a sense of cleanliness, its gives them a sense of self-worth. "With hygiene comes dignity, and with dignity comes opportunity," Sandoval said. "So hopefully, it will open other doors for people," Sandoval told CBS SF. Starting from June 28, the showers will be available to the public on Saturdays from 7 a.m. to 12 p.m. CBS SF reports that one bus could offer as many as 130 showers to the homeless of San Francisco.
A common misconception of the homeless is that they do not take care of themselves. In reality, joining a gym is one way that some homeless are able to ensure their personal hygiene, The Huffington Post reported. Public libraries with free restrooms are another area where the homeless will try to clean themselves up, but "they don't like that too much," one homeless lady explained in the promotional video for Lava Mae. Personal hygiene is not only important to ones health, it can also make the difference in helping a homeless person land a job and be able to get off the streets. The Better Health Channel reports that personal hygiene is one of the most effective ways to protect both ourselves and others from illness.
Published by Medicaldaily.com