Hookah Leads To Smoking Cigarettes In Teens: Why FDA Needs To Move Forward With Regulations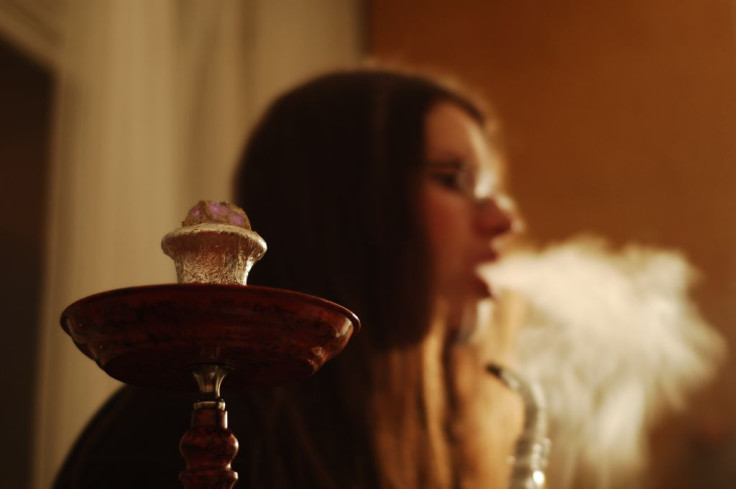 Last year, a Harvard study found that teens who smoked cigarettes and tried quitting by using smokeless tobacco, often ended up using both. Smokeless tobacco like snus, a moist tobacco that's placed under the lip, where it's absorbed, isn't a magic bullet, despite claims it could be. And a new study now finds the process can happen in reverse, going from using snus to smoking cigarettes.
The current study, from researchers at the Geisel School of Medicine, Dartmouth College, found that using both snus and the milder tobacco smoked through hookah pipes increased teens' and young adults' risk of becoming regular cigarette smokers. About one in five boys and one in six girls have used hookah in the past year, according to the Centers for Disease Control and Prevention (CDC). Although the tobacco used in hookah is milder, it still contains harmful chemicals. And with each smoke session lasting about an hour, smokers inhale more smoke than when they smoke cigarettes. Thus, it's not really surprising that using hookah or snus leads to cigarette use as well.
The reason this occurs, the researchers write, is that "water pipe tobacco remains largely unregulated by the FDA (Food and Drug Administration), and snus is less regulated than other smokeless tobacco. Even if regulation proposed in 2013 becomes final, U.S. tobacco companies may legally contest the new rule, which could delay its implementation. The success of FDA tobacco regulatory control policies will depend, in part, on their ability to reduce the use of alternative tobacco products that may lead to subsequent cigarette smoking."
Those regulations were touched upon earlier this year, when FDA Commissioner Margaret Hamburg told reporters at a briefing that the proposed regulations would be a "huge change," RT reported. The new regulations would include e-cigarettes, cigars, pipe tobacco, hookah tobacco, and other tobacco products under the 2009 Family Smoking Prevention and Tobacco Control Act. According to the Public Health Law Center at William Mitchell College of Law, hookah regulations vary between the states, with only a few regulating the sale of hookah tobacco. Illinois, for example, requires hookah establishments to get 80 percent of their revenue from tobacco sales, and they can't sell food or alcohol. Other states don't specifically include hookah under smoke-free regulations. (So, it's pretty easy to see how teens are getting their hands on these products.)
The authors' study looked at tobacco use (cigarettes, hookah, and snus) among 1,596 people aged 15 to 23 between 2010 and 2011. Then, after two years, they brought the participants back to see how many nonsmokers had begun using cigarettes, and categorized them into current smokers or high-intensity smokers. At the beginning, 65.7 percent of participants had never smoked cigarettes, but out of those people, 6.8 percent had smoked hookah and 1.9 percent had used snus, according to a press release.
They found that 39 percent of those nonsmokers who'd used hookah ended up smoking cigarettes, while only 19.9 percent of those who hadn't smoked hookah began smoking cigarettes. Eleven percent of nonsmokers who smoked hookah became current smokers compared to five percent of those who didn't use hookah. When it came to snus, 55 percent of non-cigarette smokers began smoking cigarettes after using the smokeless tobacco, compared to only 20.5 percent who hadn't used it. Meanwhile 25 percent of snus users became current smokers, compared to only five percent of those who didn't use snus.
Nearly nine out of 10 smokers begin by age 18, while 99 percent begin by age 26, according to the CDC. By regulating hookah and snus more stringently, it may one day be possible to eliminate the chances of kids trying cigarettes.
Source: Soneji S, Sargent J, Tanski S, Primack B. Associations Between Initial Water Pipe Tobacco Smoking and Snus Use and Subsequent Cigarette Smoking: Results From a Longitudinal Study of US Adolescents and Young Adults. JAMA Pediatrics. 2014.
Published by Medicaldaily.com