Hooters Asks Everyone To 'Support Our Hooters' To Raise Money To Fight Breast Cancer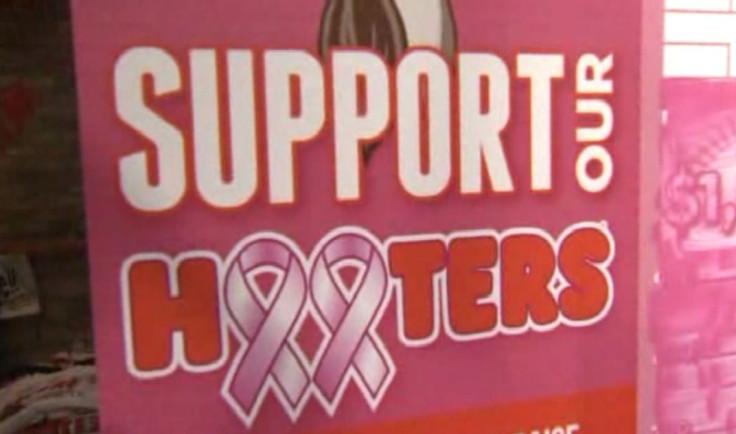 Sure, you can go to Hooters to eat frozen chicken wings and tater tots, but everyone knows there's only one reason to go to hooters. October is Breast Cancer Awareness Month in the U.S., so it only makes sense that the restaurant chain is getting in on the action. Its campaign, called "Support Our Hooters," is hoping to raise $500,000 toward The V Foundation for Cancer Research.
"Women make up 70 percent of Hooters employees; and with one in eight women affected by breast cancer in their lifetime, there is no cause more relevant to our organization than the fight against this disease," Hooters said in a press release. The chain is hoping to raise $1,000 from each restaurant in the country by offering "Pink Passion" drink specials, and other incentives, such as a chance to win a 50-wing party or a trip to the 2015 Hooters International Swimsuit Pageant, depending on how much you donate.
The American Cancer Society estimates that about 232,670 cases of invasive breast cancer and another 62, 570 cases of early stage breast cancer will be diagnosed in 2014. About 40,000 women will die of breast cancer. Incidences of breast cancer have been decreasing since 2000, however, due to less menopausal women undergoing hormone therapy — a 2002 study that linked the therapy to risk of breast cancer led to a seven percent drop in diagnoses.
Early detection is crucial to preventing death in breast cancer patients. For more information, you can visit the National Breast Cancer Foundation's website. And to learn about why Hooters is so dedicated to fighting the disease, watch the clip below.
Published by Medicaldaily.com