Hope Solo Doesn't Want To Compete In Rio Olympics To Protect Potential Child From Zika Virus; Is Her Fear Misguided?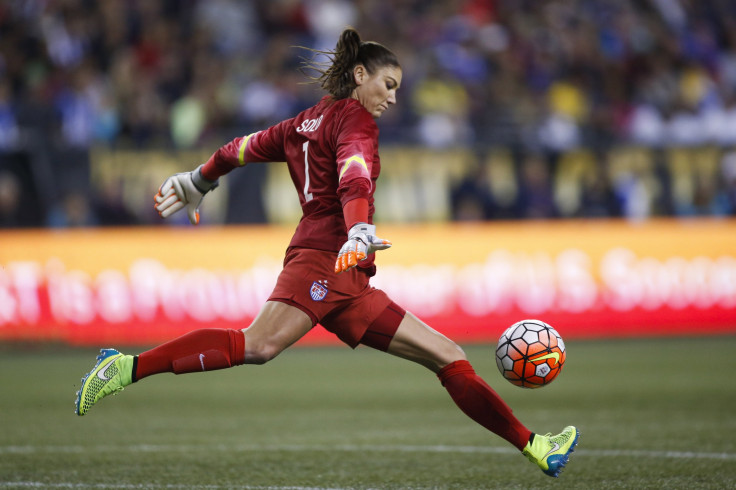 Just yesterday Kenya announced that it would pull its athletes out of the Rio Olympics unless the country received assurance that they would not be effected by the Zika virus outbreak. Now one of the top athletes out of the United States, soccer star Hope Solo, is also airing her grievances over competing in Brazil while Zika continues to spread, but is her fear misguided?
"If I had to make the choice today, I wouldn't go [to the Olympics]," she said in an interview with SI.com on Monday. "I would never take the risk of having an unhealthy child. Competing in the Olympics should be a safe environment for every athlete, male and female alike. Female athletes should not be forced to make a decision that could sacrifice the health of a child."
Solo, a two-time Olympic gold-medal winning goalie for the U.S. Women's Soccer Team, spoke to SI.com just prior to the U.S. women's national team's contest against Costa Rica in the Olympic qualifying tournament in Texas. On Monday, U.S. Olympic Committee (USOC) spokesman Patrick Sandusky gave his response to "inaccurate reports regarding… guidance for athletes attending the 2016 Olympic and Paralympic Games in Rio."
"The reports that the USOC has advised U.S. athletes to reconsider competing in Rio due to the Zika virus are 100 percent inaccurate," Sandusky said in a statement. "Team USA looks forward to the Games and we did not, would not and will not prevent athletes from competing for their country should they qualify."
Zika is especially worrisome for women traveling to effected areas seeing as the mosquito-borne virus has been tied to a spike in babies born with microcephaly, a birth defect that involves abnormal brain and cranial development in infants. Solo, who is currently married to former NFL tight end Jerramy Stevens, expressed concerns over giving birth to "an unhealthy child" in the near future.
In spite of Solo's apprehension and the CDC's travel notices for people traveling to counties and territories effected by the spread of Zika, this mosquito-borne infection isn't harmful in most cases. So far the Centers for Disease Control and Prevention have only recorded 35 cases of travel-associated Zika virus. There is no vaccine or cure for Zika, however, it can be easily prevented by avoiding mosquito bites.
Although women with pregnancy plans are particularly at risk for the unwanted effects tied to Zika, most experts agree that women who have contracted Zika can still give birth to healthy babies after they have been cured of the illness. Experts recommend waiting "at least one month" to conceive after recovering.
The International Olympic Committee already announced it will be keeping any eye on destroying mosquito hotbeds in areas that will play host to the Games, including Rio, Manaus, Salvador, Brasília, Belo Horizonte, and São Paulo. The Olympic Games have been cancelled two times in recorded history; once for World War I and a second time for World War II.
Published by Medicaldaily.com