Hot Peppers And 3 Other Spicy Foods That Boost Health And Longevity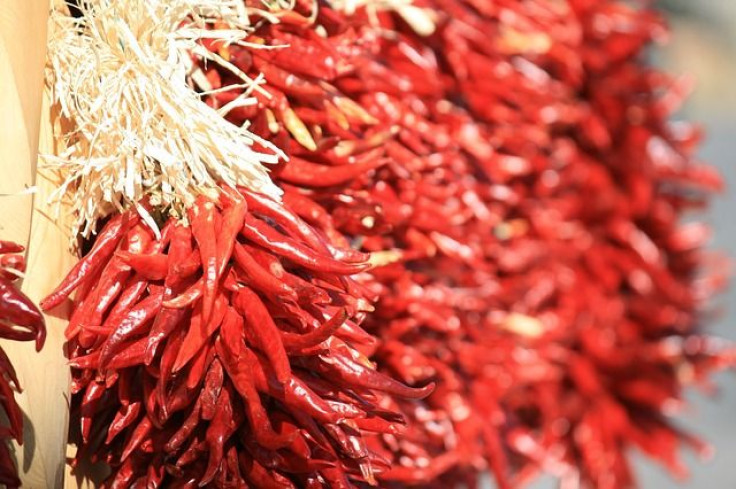 Spices can transform dull dishes into flavorful gourmet meals, but they could also have a bit of a longer-lasting effect: A new study from the University of Vermont has found that consuming hot red chili peppers is actually linked to a 13 percent reduction in mortality.
Back in 2014, a study found that blocking the body's ability to feel pain can help you live longer. Chili peppers actually do this naturally due to high levels of capsaicin.
Read: Don't Feel The Burn: 5 Best Remedies To Cool Your Tongue After Eating Spicy Food
"Because our study adds to the generalizability of previous findings, chili pepper — or even spicy food — consumption may become a dietary recommendation and/or fuel further research in the form of clinical trials," said medical student and study researcher Mustafa Chopan, according to Science Daily.
We've listed three other flavor-packed foods that have been shown to boost your health and longevity.
GINGER
A study published in September in American Chemical Society's Journal of Agricultural and Food Chemistry found that capsaicin combined with the main compound in ginger, 6-gingerol, may lower the risk of cancer.
HORSERADISH
Eating horseradish has many reported health benefits, including boosting cancer-fighting properties. According to a press release from the University of Illinois, even just a teaspoon of the condiment is enough to help you get the health benefit.
Read: Spice Up Your Life: Spicy Food Consumption Linked To Lower Risk Of Death
WASABI
Spicy wasabi paste contains antimicrobial agents, which work to eliminate bacteria. According to Healthy Eating, it is also an anti-inflammatory agent and also helps to reduce chances of heart attack and stroke.
Source: Chopan M, Littenberg B. The Association of Hot Red Chili Pepper Consumption and Mortality: A Large Population-Based Cohort Study. PLOS ONE . 2017.
See Also:
Longevity And Health May Come To Those Who Include Spicy Foods In Their Diets
Pass The... Spicy Food: 4 Ways To Get High, Without Any Drugs Whatsoever
Published by Medicaldaily.com