Healthy Hot Toddy Recipes: 4 Different Ways To Soothe Cold Symptoms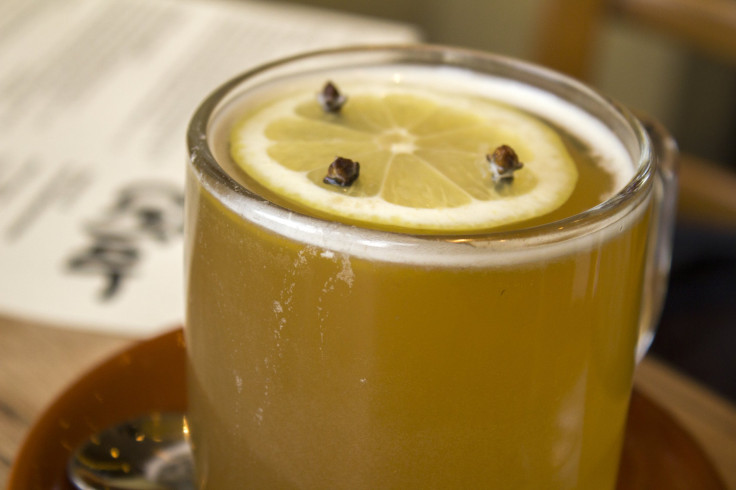 The hot toddy is a classic hot alcoholic drink made with simple ingredients. It originated during the colonial era, when the British served the chilled beverage with a blend of spirits, water, and fermented sap from the toddy palm plant. When it made its way across the ocean to America, plantation owners in the South thought to heat it up and stir in their own rum, spices, and local sugar cane.
For decades, the drink was used as a natural remedy for cold-like aches and pains; it helped sneezers and coughers struggling to fall sleep. It seems counterintuitive, but the bourbon or whiskey used to make a traditional hot toddy dilates the blood vessels and makes it easier for mucus membranes to fight infection — basically, it's a decongestant. Squeeze in some honey, lemon, and a steeping bag of herbal tea, and the drink is fully equipped to soothe a cold.
If you're suffering from a stubborn sore throat, cold, or cough, and your medicine cabinet has failed you thus far, it might be worth it to head to your liquor cabinet instead. Just don't go overboard: An excess amount of alcohol can compromise the immune system and weaken your chances of fighting off sickness. Try out a few of our favorite recipes below.
Healthy Hot Toddy Recipes
8 ounces hot water
1 bag herbal tea
1 ounces bourbon
1 tablespoon honey
1 lemon wedge
Pour hot water into mug and steep tea for 2 to 3 minutes. Remove tea bag and add honey, stirring to dissolve. Pour in whiskey, add squeeze of lemon, and stir.
2 parts Basil Haydens Bourbon
1/4 part honey
1 to 2 Star Anise
2 parts hot water
Orange zest
Lemon zest
3 cinnamon sticks
Combine all the ingredients in a cocktail shaker. Shake and strain into a glass and garnish with a cinnamon stick.
3 ounces of Green Tea Liqueur
4 ounces steeped black tea
1/4 teaspoon of Chai Spices (cardamom powder, 1 slice ginger, 1 cinnamon stick, 2 cloves)
1-ounce heavy cream
Combine the liqueur with hot, steeped tea. Add the Chai spices and let sit for 2 minutes. Strain the liquid into a glass, add heavy cream, and garnish with a cinnamon stick.
1/2-ounce Campari
1/2-ounce Wild Turkey 101 Bourbon
1-ounce Sweet Vermouth
3/4 ounces Cinnamon Syrup*
Combine ingredients into warm 8 ½-oz mug, and top with boiling water. Garnish with an orange slice.
*Bring 4 cinnamon sticks, 1 cup sugar, and 1 cup water to a boil. Remove from heat and let cool.
Published by Medicaldaily.com