How Digital Diapers Could Change The Way We Parent: Urine Samples Digitally Transferred To Doctors Via Smartphone App [VIDEO]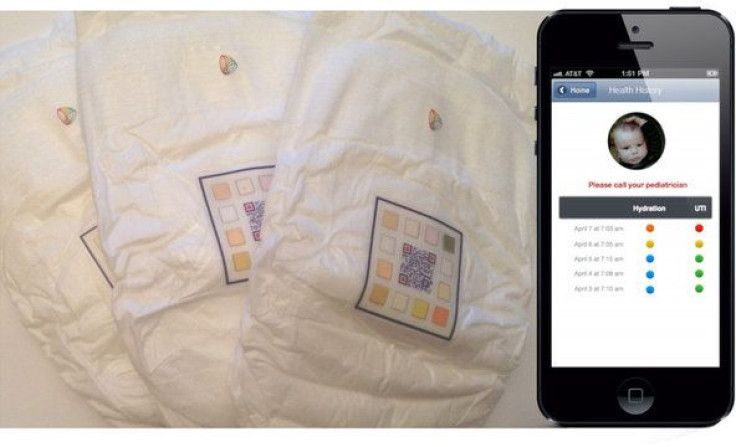 Parents have a lot of guesswork on their hands, and calling the pediatrician for every little cough or sniffle is no doubt impractical. A recent invention called the Smart Diaper lets parents eliminate some of that guesswork without intruding in their doctor's life.
Smart Diaper is a "digital diaper," meaning it interacts with a smartphone app that can communicate with a family's pediatrician. A collection of colored squares on the outside of the Smart Diaper contains various reagents that check a baby's urine for proteins, water, and bacteria. Depending on how the squares change color, the app's algorithms can figure out if the baby has a urinary tract infection, dysfunctional kidneys, or if the baby is dehydrated.
Like many great inventions, the founder of Smart Diapers had his eureka moment at random.
"I was driving with my wife and daughter one day, when my wife asked if the baby had wet herself," said Yaroslav Faybishenko, founder of the New York startup behind Smart Diaper, called Pixie Scientific. "I realized she was sitting in data."
Faybishenko has designed the Smart Diaper to be easily read and photographed. The patch of colored squares sits clearly on the outside of the diaper, and after a quick photo of the color changes, the data transfers to Pixie's cloud service and parents can receive notifications about their baby's heath.
If the levels of one or more markers are too high, the app encourages the parent to call the pediatrician.
Faybishenko said he thought the diaper, which he said would cost about 30 percent more than regular diapers, had potential as a consumer product for parents who want to keep regular tabs on their child's health, the New York Times blog "Bits" reports.
Benioff Children's Hospital of the University of California, San Francisco is expected to be the first to see testing this September. A similar study has been considered at Columbia University's children's hospital.
If successful, the product may then be submitted to the Food and Drug Administration for final approval.
Faybishenko said simplicity was paramount in designing the Smart Diaper.
"You really don't want to overload parents with data they don't understand," he said, noting that the app was designed to be user-friendly, as it spits out all the relevant data and can even send the analysis to the pediatrician with parent permission.
"Eventually the quantified self idea will be mostly silent and unobtrusive," he added, "just something inside the existing flow of life."
Quantified self products have been in existence for years. Designed to offer a user as much data as possible, the smartphone apps track a person's daily habits — from sleep schedules to calorie intake, exercise levels to biometric signals.
Faybishenko said Smart Diaper breaks that mold: he doesn't see the product as a member of the quantified self family.
"Our goal is not to create another quantified self gadget," Pixie's website states, "but to create a product that is unobtrusive in your daily life and only speaks up when there is reason to see a pediatrician or a specialist."
Published by Medicaldaily.com