How To Eat Healthy And Rid Your Diet Of Processed Foods: 7 Tips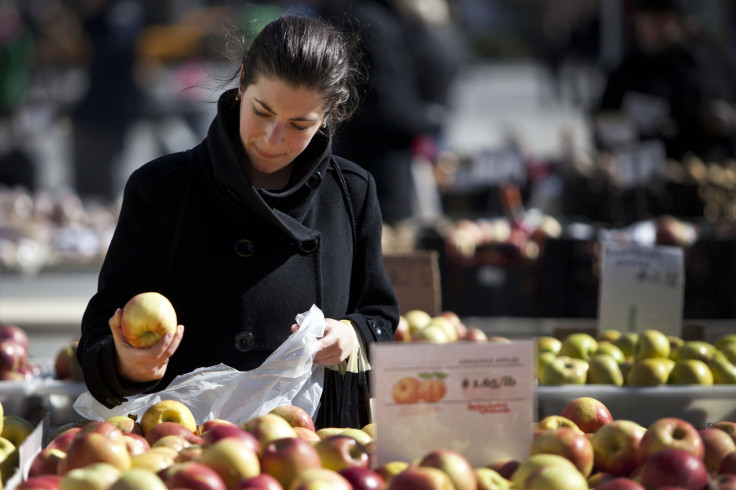 Most of us spend a great deal of money on the food we eat. Unprocessed, a book published just last month, tells the story of Megan Kimble, a 26-year old grad student, who decided to go for an entire year without eating processed foods. Importantly, she accomplished this on an annual salary of just $16,780 while spending about 27 percent of that on food.
The book is not only a description of Kimble's 12-month experience, but a wide-ranging answer to a single question: What makes a food processed? As reported in Health, Kimble includes a number of important tips about how she changed her diet.
Not sure which foods are processed? Read labels.
"If the ingredient list contains a word you don't really know, the food is probably processed," Kimble told Health. You probably recognize these additive names even if you don't know what they mean: modified food starch, soy lecithin, xanthan gum, dextrose, and high fructose corn syrup. Avoid them, Kimble says.
Part two of this tip is learning which single food items, which brands, or which companies can be trusted. "You'll start to recognize—and appreciate—food companies that don't add wonky ingredients to their products," Kimble told Health. Find a product that's clean, stay loyal to it.
A General Rule: avoid multi-ingredient foods
To avoid preservatives, emulsifiers, and other additives, Kimble suggests purchasing products with only one ingredient (milk, for instance, oats, honey, or fruit). On the opposite end of the spectrum, you'll find sauces and salad dressings, most of which contain many ingredients and therefore many processed food substances.
Make your favorite treats at home
Can't find an unprocessed version of what you crave at the food store? Bake or cook it at home yourself. In this way you will satisfy your desire for the unhealthy with a natural option. If it's chips you want, try roasting sweet potato fries and adding sea salt or baking kale leaves with olive oil and salt. DIY is often cheaper, too, Kimble says.
Join a CSA, or Community Supported Agriculture program
Kimble believes Community Supported Agriculture programs offer the best deals in organic eating. Such programs usually require "shareholders" to pledge money up front to a working farm, and then receive proceeds throughout the year in the form of food. Members share in both the risks and rewards of farming, receiving less food when conditions do not favor farming, more when the opposite is true.
"My produce conveniently comes with a newsletter featuring recipes that incorporate vegetables from that week's box," Kimble told Health.
Prepare your food in advance and in bulk
To save not just money but time, prepare and then refrigerate your unprocessed options for the week ahead: roast vegetables, make a batch of grains, or cook dried beans in a crockpot. Mom did it, so you can too (no matter how busy you believe you are).
When traveling, buy prepared foods at a natural food store (instead of restaurant)
Natural food stores often prepare their own foods or set out a salad bar. These tend to be not only healthier but also cheaper than restaurant meals, says Kimble. Plan in advance by searching for natural food options online and mapping the distance from your hotel or temporary residence.
Start small and make deliberate exceptions
It is easier to weed out processed foods from your diet just one item at a time. Instead of tackling everything, begin with one favorite food, let's say spaghetti sauce. In the next couple of months, take the time to research recipes online and then practice making the sauce (and storing it in your freezer) yourself.
Naturally, there will be a food (or two) you just don't want to give up. Can't beat your craving for high-end candy? Your favorite chocolates can become your sole exemption from your unprocessed food law. By creating a special ritual around the exceptional item, you reinforce your new habit of avoiding processed foods.
Supporting Organic Farms
Kimble's long-standing concern with food extends beyond the personal as evidenced by her work as a reporter for The Los Angeles Times. In one LA Times article published well before her book, Kimble offers a compelling economic argument to explain why you might want to support small businesses, such as a natural food store or nearby organic farm.
"According to a study by Local First Arizona, if a community the size of Tucson shifted 10 percent of its spending to local businesses — a 10 percent shift, not an increase — within one year, it would create nearly $140 million in new revenue for the city," she wrote. Explaining further, Kimble notes whenever $100 is spent at a local business, $73 of it remains within the community, yet spending that same amount on a national corporation means only $43 remains local. Spending on local businesses means the people you pass on the street will meet their payrolls, cover their rent, and create accountability, she suggests.
In another article, Kimble highlights what she describes as a growing trend: housing developments built around functioning organic farms. In particular, she describes Serenbe Farms, a 1,000-acre, 100-family farm development situated outside Atlanta. Serenbe includes 900-square-foot cottages selling for $265,000 along with 6,500 square foot homes priced at half a million dollars. What's the real draw for homeowners? The subdivision consists of 70 percent greenspace — 25 acres reserved for an organic farm which distributes some of its produce directly to residents who buy shares in the farm.
"Agriculture is the new golf," Ed McMahon, a senior fellow with the Urban Land Institute in Washington, told Kimble.
Published by Medicaldaily.com