How To Make Healthier Ice Cream: 4 Alternatives To The Traditional Sweet Treat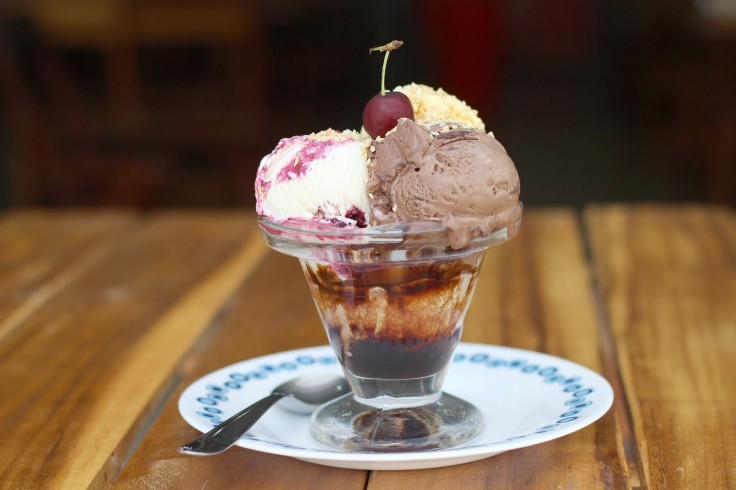 Happy National Ice Cream Day! The sweet treat makes for a delicious dessert, especially on warm summer days, but most of the traditional brands are loaded with unhealthy additives. If you still want to indulge in the frosty treat, but are looking to cut back on sugar or calories, try one of these healthier alternatives.
Homemade Sorbet
Sorbet is a quick, easy treat that requires only two ingredients: fruit and water.
"I always tell my patients they need to turn their sweet-tooth into a fruit-tooth! So the best alternative is sorbet, and don't buy it from the store, it's far too processed," Dr. Eric Braverman, founder of PATH Medical Center, told Medical Daily. "Make it yourself at home by blending up your favorite fruits with water, and pouring them into freezable molds. Then pop one out whenever you feel that ice cream sweet-tooth."
Read: What Causes Brain Freeze? How Blood Flow Changes When You Get An Ice Cream Headache
One-Ingredient "Ice Cream"
If you've ever searched the internet for at-home recipes for ice cream alternatives, there's no doubt you've come across banana "ice cream." The simple recipe requires a single ingredient: bananas. Cut ripe bananas into coin-sized circles, then freeze them for at least two hours in an airtight container. Once you take the pieces out of the freezer, blend them in a food processor or blender. Then voila! The banana ice cream is ready to eat, or you can put it back in the freezer until it's solid. If you want more flavor, top the ice cream with cinnamon or a handful of nuts.
Read: The Caffeine Content Of Different Foods, From Ice Cream To Energy Drinks
Snow Cones, Without Syrup
Instead of pouring sugary syrup over shaved ice, one option is to make your own syrup from fresh or frozen berries. First, put ice cubes through an ice shaver or snow cone machine. Then, use a blender or food processor to puree the fruit. Finally, top the ice with the fresh puree.
Low-Cal Store Bought Ice Cream
If sorbet or snow cones without syrup don't satisfy your sweet tooth, then the closest thing you'll get to the real deal is an alternative, like Halo Top. It's marketed as a healthy ice cream brand and has 240 calories for an entire pint and 6 grams of protein per serving. "I'm a huge fan of Halo Top Ice Cream for myself and my clients because it's a low-sugar, low-carb ice cream option made with all-natural ingredients and no synthetic growth hormones," nutritionist Heather Bauer, R.D., C.D.N., told FITNESS Magazine.
See also: Will Foods With Hidden Alcohol Make You Drunk? Booze-Infused Ice Cream Regulated In Massachusetts
South Korea's New Hangover Cure: An Ice Cream Bar Made With Juice From The Ancient Raisin Fruit Tree
Published by Medicaldaily.com